The Patriot Campers X2 Tourer takes the true spirit of the original, award winning Patriot Camper trailer and revives it for 2023. The GEN2 Patriot Campers range has evolved, and rightfully so, but there's a place for brilliant simplicity without compromising on innovation. A place where the only thing that matters is a lightweight, exceptionally comfortable and ultra-capable GEN2 Camper Trailer that can take you and your family anywhere you want to go, at a more accessible price point. When the only thing that matters is making memories, dig your roots with the all new Patriot Campers X2.

DRY TARE
850KG* (1873LBS)*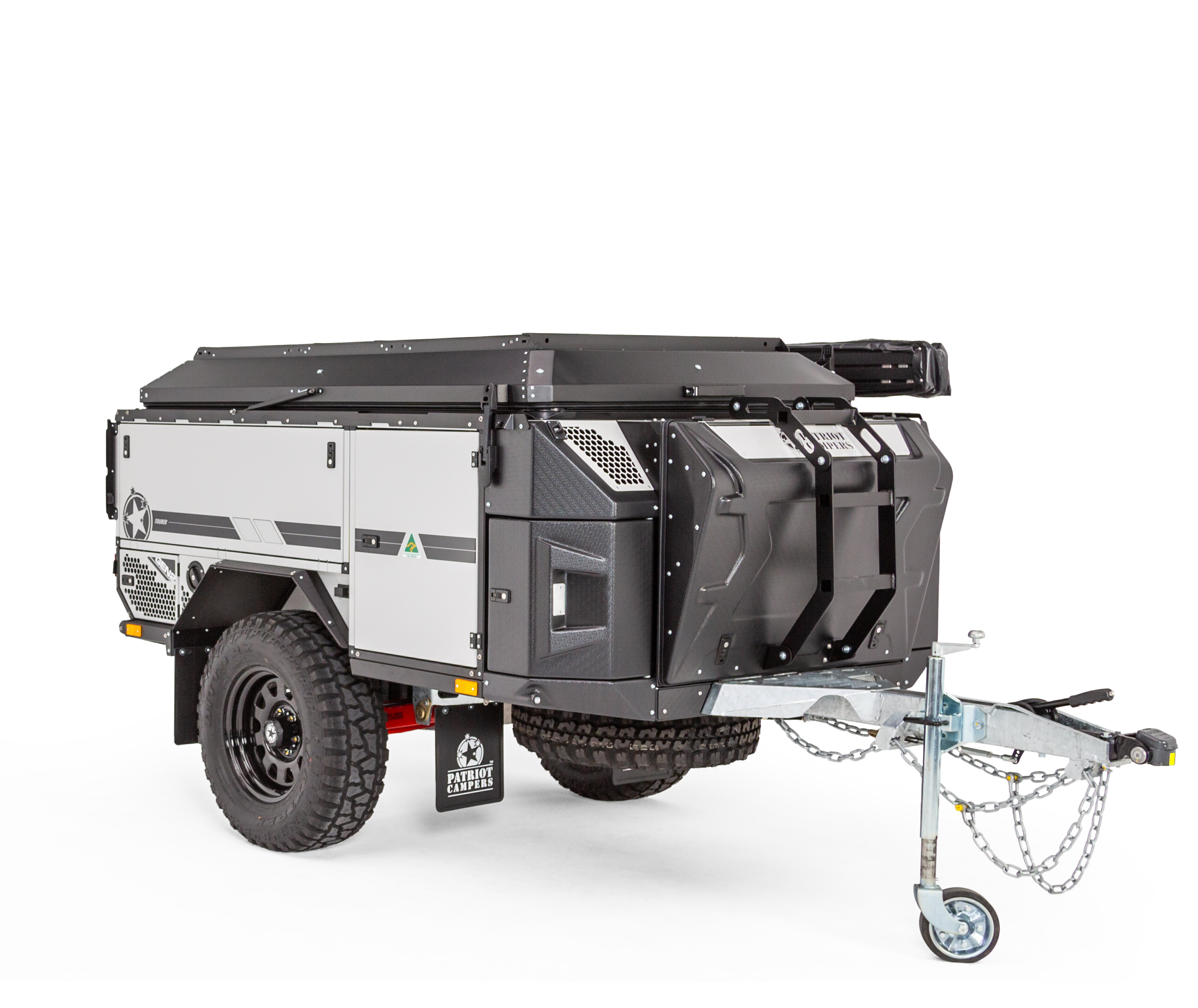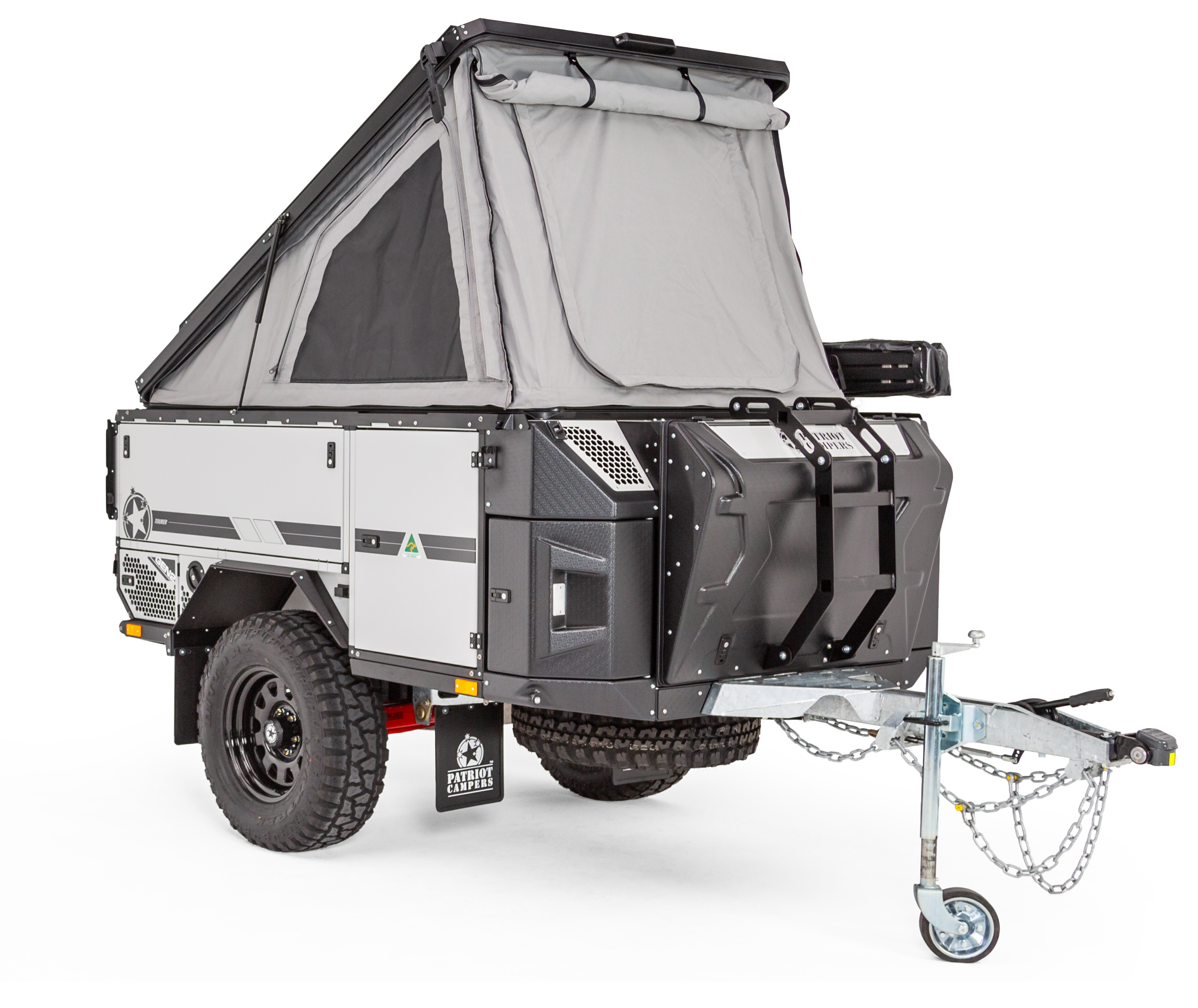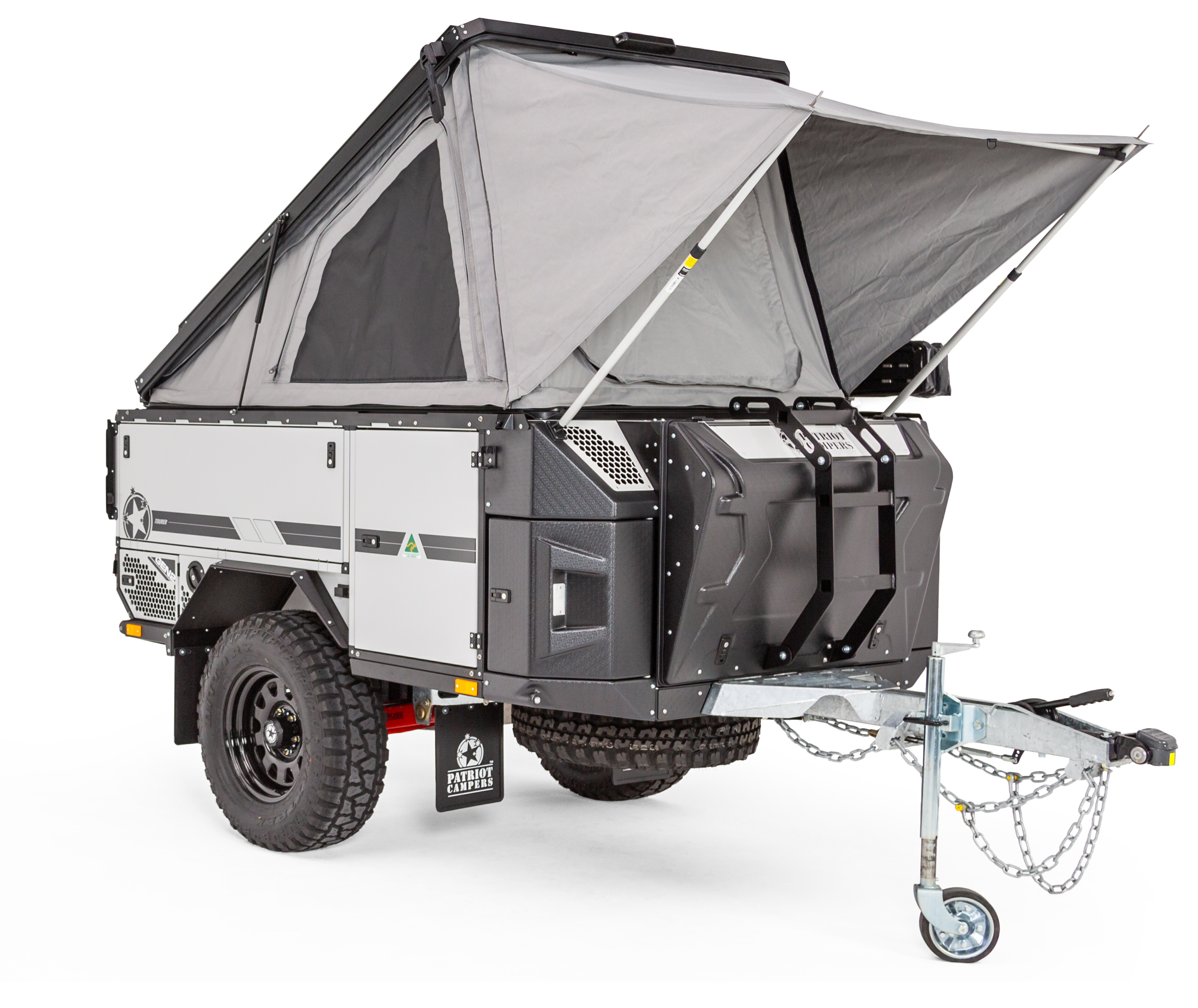 *INTRODUCTORY PRICING SHOWN. PRICING DISPLAYED IS THE FROM PRICE. COST MAY VARY DUE TO OPTIONAL INCLUSIONS.
PATRIOT CAMPERS X2 Tourer

Watch Now
x2 tourer LAUNCH FILM
Introducing the Patriot Campers X2 Tourer, an Ultra-Capable Lightweight Camper Trailer with everything you need and nothing you don't! Want to learn more? Watch the Official Launch Film now on YouTube.  
STANDARD FEATURES

WHAT'S NEW?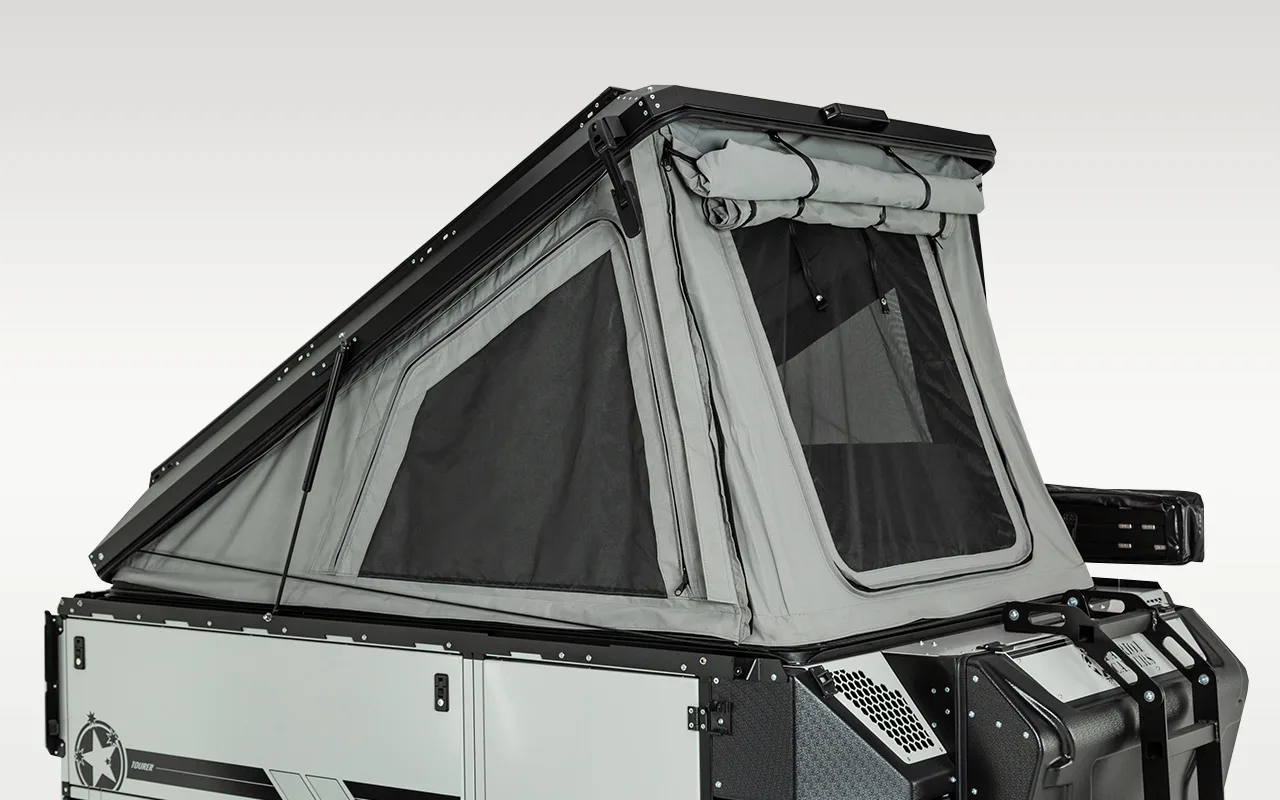 INTEGRATED HARDSHELL ROOF TOP TENT
For the first time ever, we have designed a fully integrated A-Frame style hard shell roof top tent into the body of the Camper Trailer. While the design of an A-Frame style roof top tent isn't a new one, we have made innovations that will ensure customers will have the best experience possible.  The construction of the hardshell lid on the X2 is 100% Australian made and manufactured in house at Patriot Campers. 
The integration of the canvas from the tent and side walls seamlessly blends into the robust construction. For owners camping in cooler climates, an added benefit is the lid's ability to allow condensation to breathe through the canvas, evaporating out through the top. This dual-functionality ensures comfort and adaptability, enhancing the camping experience across various environmental conditions.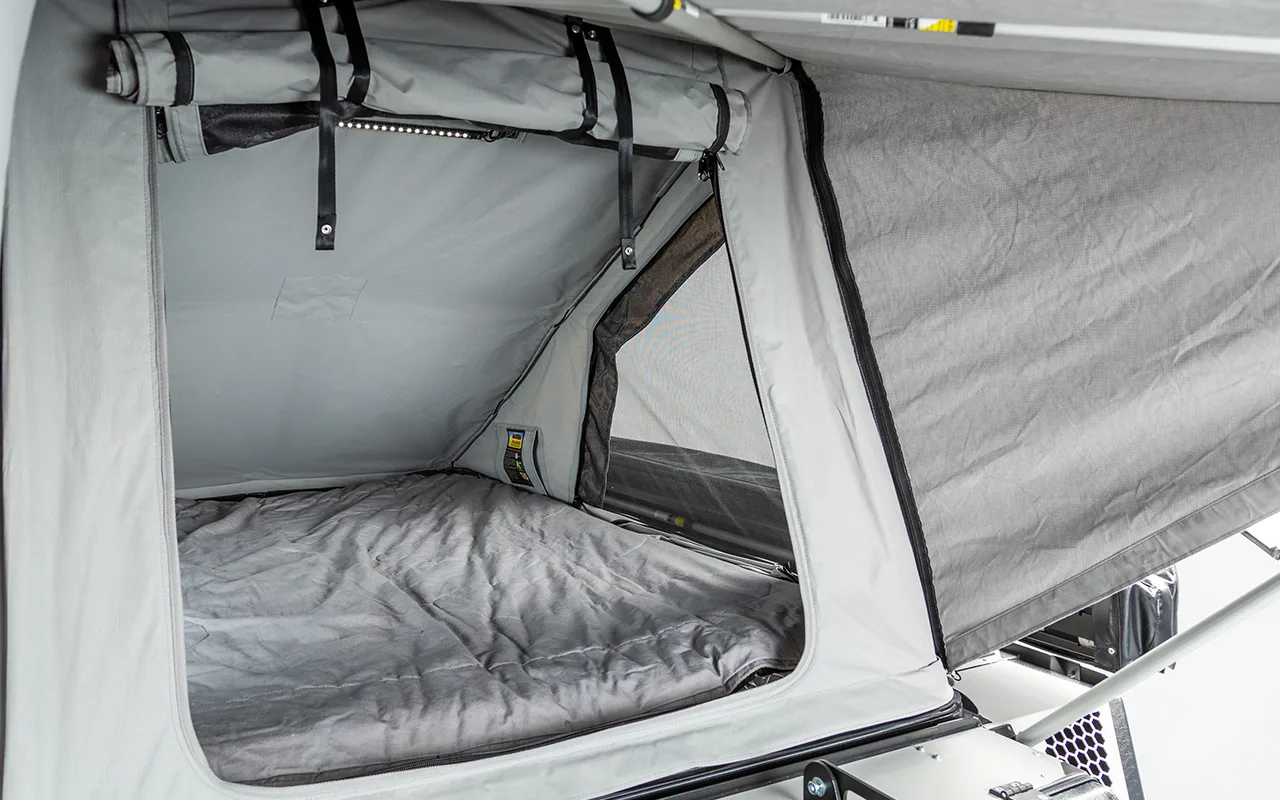 THE BEDROOM
Inside the roof top tent lays a mattress, providing a spacious and comfortable area to retreat too. Comfort was important when it came to the design of the X2. At either side of the tent are two large zippable windows as well as a large window that rolls out from the front of the camper trailer, allowing for consistency of air flow into the roof top tent. The X2 is equipped with the capability to extend a front awning that directly covers the ladder, offering added protection against the elements.
The X2 is filled with creature comforts. A LED light is positioned inside the top of the tent as well as interior camp scene lighting. All lighting can be easily adjusted to preferred brightness levels through buttons or via the camper's app. Within the tent are two USB charging outlets. Strategically placed for convenient charging electronics during the night. 
DUAL ACCESS ENTRY POINTS
The X2 has dual entry access points into the roof top tent. Enter via an integrated ladder situated at the drawbar of the Camper Trailer or utilise a secondary access point with the detachable side ladder. When not in use, the secondary detachable ladder can be stored in a dedicated location at the rear of the Camper Trailer.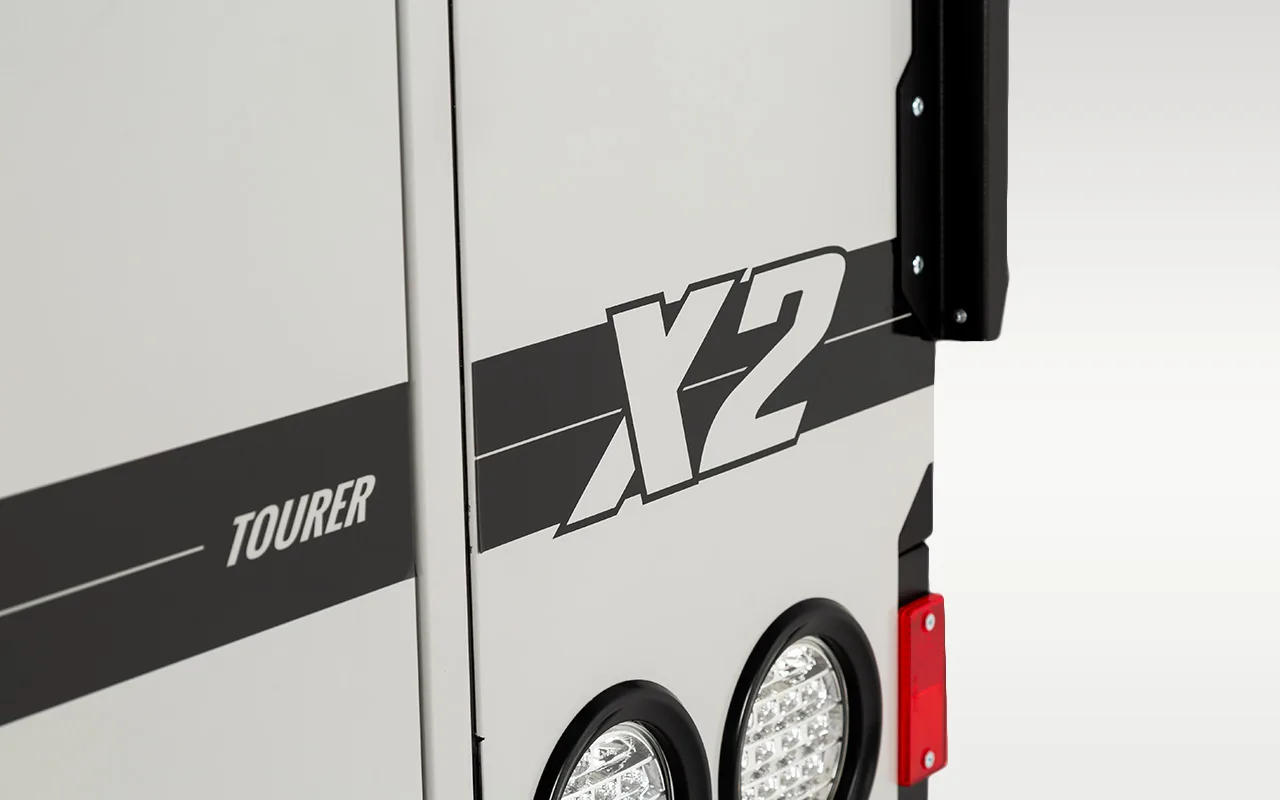 ALL-NEW COLOUR – CONCRETE GREY
The X2 tourer is a Patriot Camper through and through. Constructed from lightweight aluminium, this cutting edge design boasts a smooth finish with hard tooled body panels and compression latches, giving it a sleek and contemporary look. The X2 is available in the all-new Concrete Grey finish and features an updated front and rear end to enhance both style and offroadbility, as well as all-new steel wheels and black UV-stable vinyl decals.
BODY CONSTRUCTION
Built to conquer the toughest terrains, the X2 Tourer is the lightest Camper Trailer in the Patriot Campers range, weighing in at a super light dry tare weight of 850kg (1873lbs)*. Engineered exclusively for Patriot Campers is our new world-first, patent-pending body panel construction. This revolutionary method features composite components bonded to sheet metal to provide maximum flexibility and strength in a monocoque construction. There is no welding any where in the design of the body, thanks to our new technology, ensuring longevity of moving components susceptible to metal fatigue.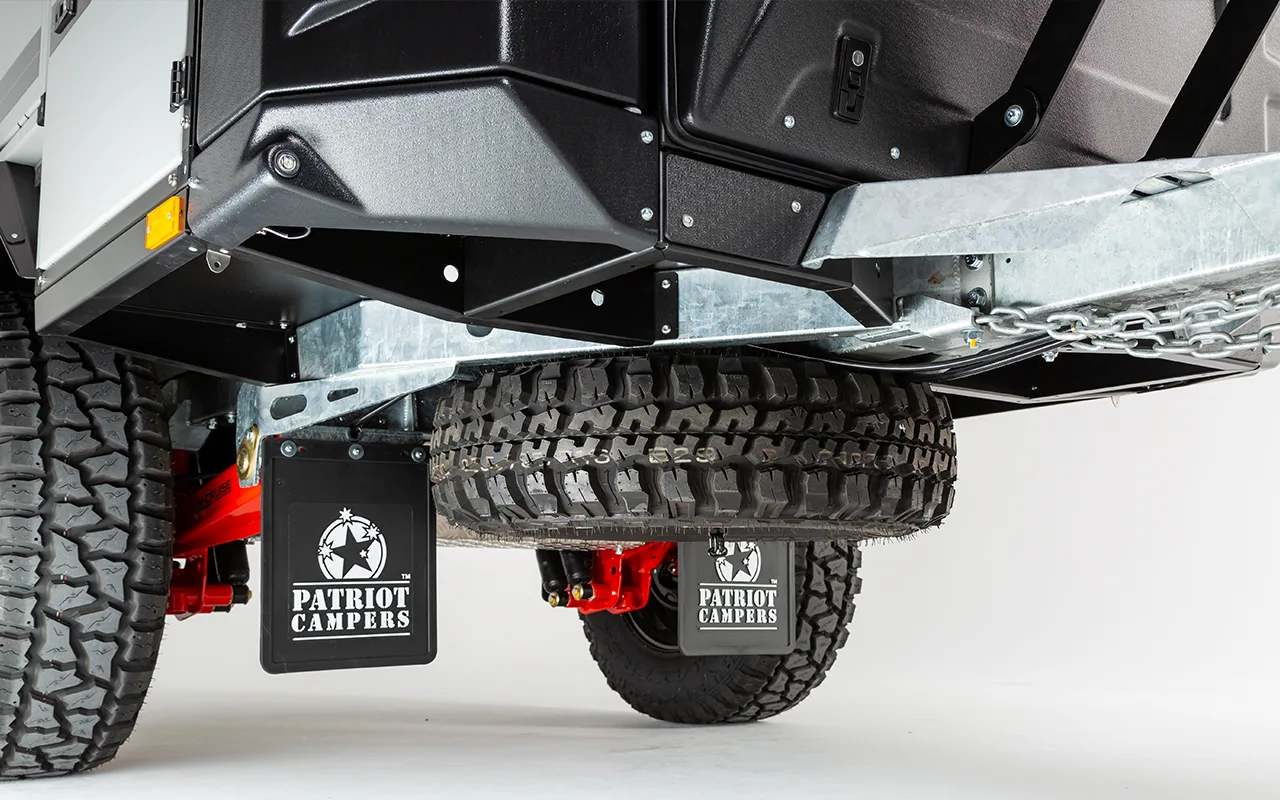 UNPARELLED OFFROADABILITY
With a massive 36° departure angle and a sturdy all-steel rear bumper, no challenge is too daunting. Take on any obstacle with unwavering confidence, courtesy of the 17″ steel wheels and 33″ mud terrain tyres that ensure exceptional traction. Revel in unrivalled stability and control, thanks to the X-Cruise™ suspension system and 12″ electric brakes.
The X2 boasts a light, strong, and incredibly compact hot-dipped galvanised steel RIGILITE™ chassis. This single variant chassis is extended as standard and conveniently houses a spare tyre underneath. This robust foundation guarantees exceptional strength and durability for any adventure that awaits. With two recovery points boasting an impressive 800kg load rating each, the X2 can tackle any obstacle that comes its way.
POWERFUL BATTERY MANAGEMENT
The electronics in the X2 are controllable through the REDARC TVMS or via the Campers app which offers users a convenient and efficient power management system. Featuring rapid DC charging capabilities through multiple sources, including the supplied 12V charger input, solar input, and car alternator input. You have the flexibility to charge the X2 using the provided 240 to 12V charger, ensuring adaptability to various power sources.
240W OF SOLAR POWER
Resting atop the integrated roof top tent on the X2 are two high-performing fixed 120W solar panels, meticulously designed to provide a sustainable and reliable source of power for getting off the grid.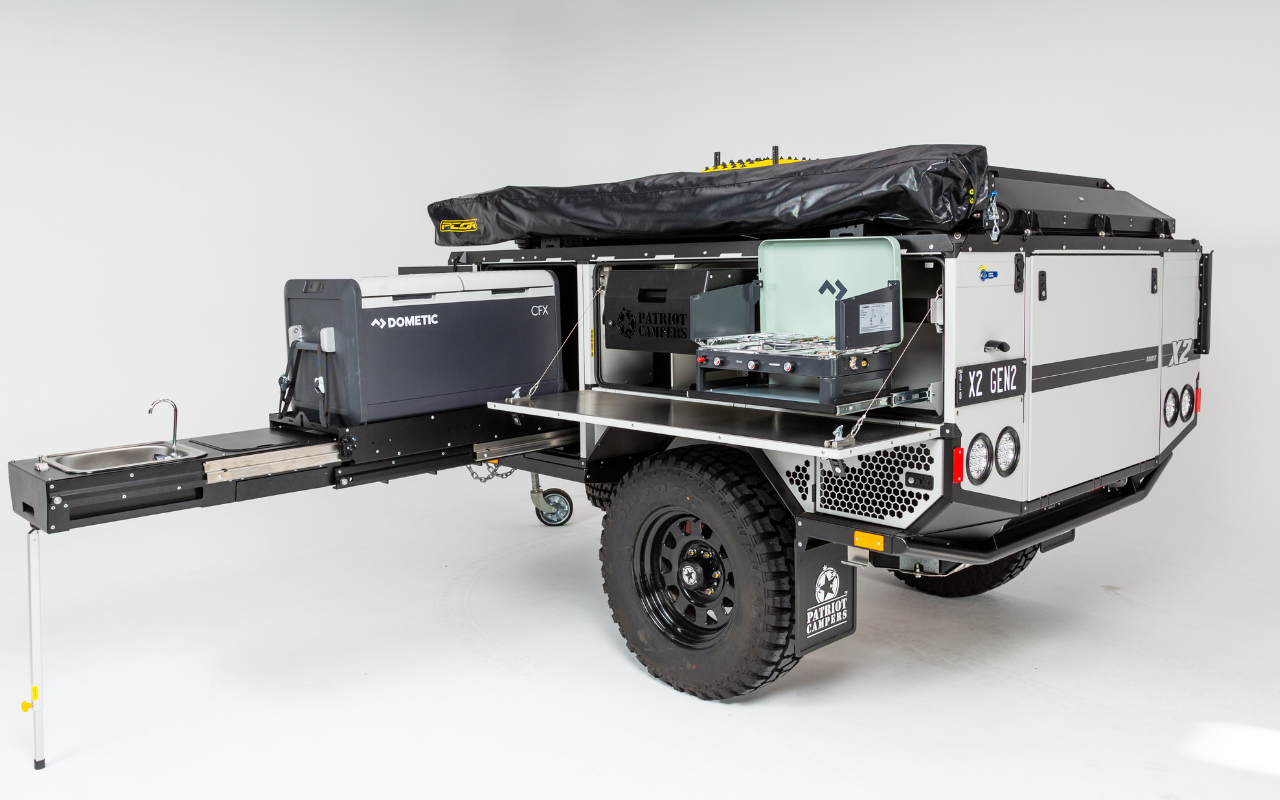 L-SHAPED KITCHEN
The X2's L-shaped kitchen is exceptionally practical and functional. Featuring a durable and scratch-resistant stainless steel countertop, you can confidently prepare meals directly on the surface without any concerns. Within the L-Shaped kitchen of the X2 is the fridge compartment, which will accommodate a 75L Dometic Fridge (Optional). Explore the conveniences of this camp kitchen as you slide out the fridge, revealing a modern stainless steel sink and a thoughtfully designed cutlery drawer.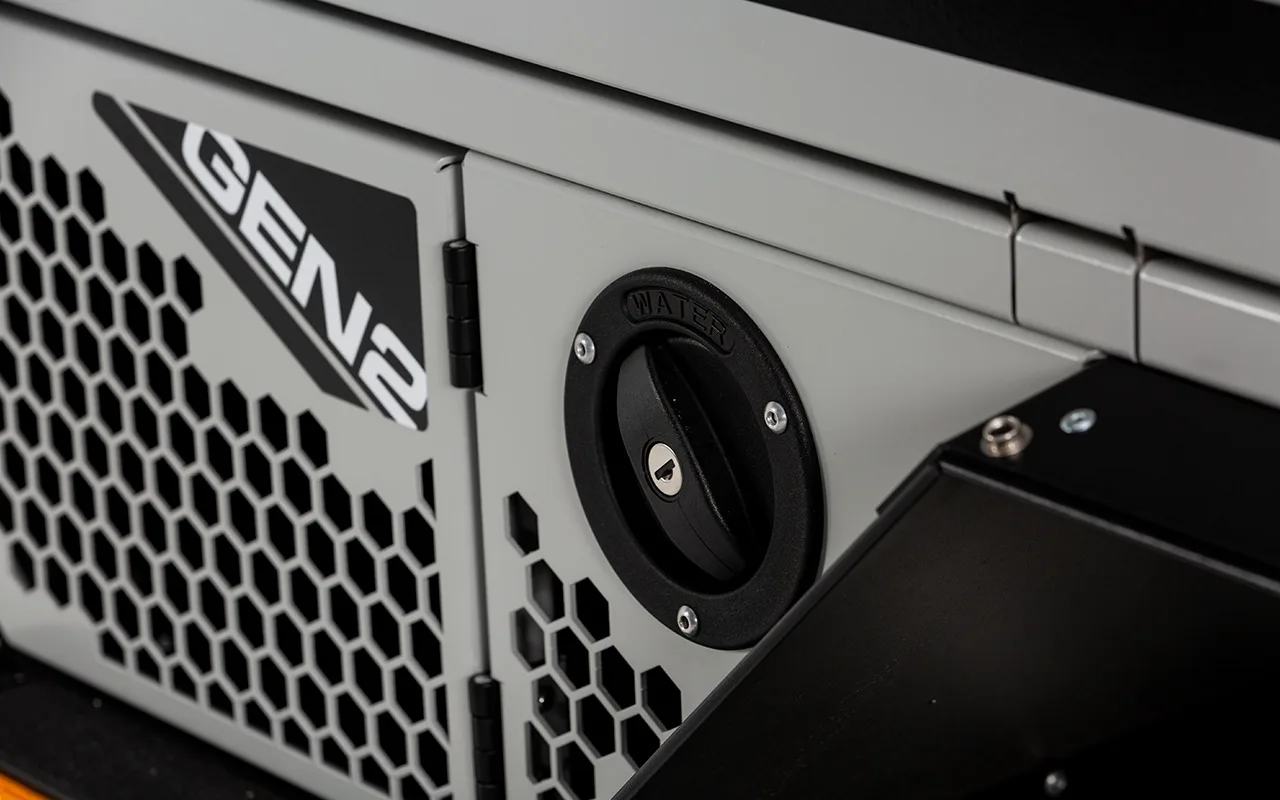 150L WATER TANK
Explore further & stay longer, with 150L of water pumped through an improved filler and breather system, which has been re-positioned in the chassis for even better centre of gravity, which makes for improved stability off road.
FLIP UP JOCKEY WHEEL 
Connecting and disconnecting your tow vehicle has been made easier with the standard fitment of the flip-up jockey wheel. With the X2,  you no longer need to remove the jockey wheel when towing
PCOR
® AWNING
The GEN2 X2 features the PCOR® Awning, strategically designed with a primary focus on weight savings. The incorporation of HEXOCORE™ material is a key contributor to the substantial reduction in awning weight. With an impressive 12.25 meters of coverage, UPF 50+ rating, and integrated poles and guy ropes, this awning marries lightweight design with top-tier sun protection for an unmatched outdoor adventure.
OPTIONAL FEATURES

WHAT'S NEW?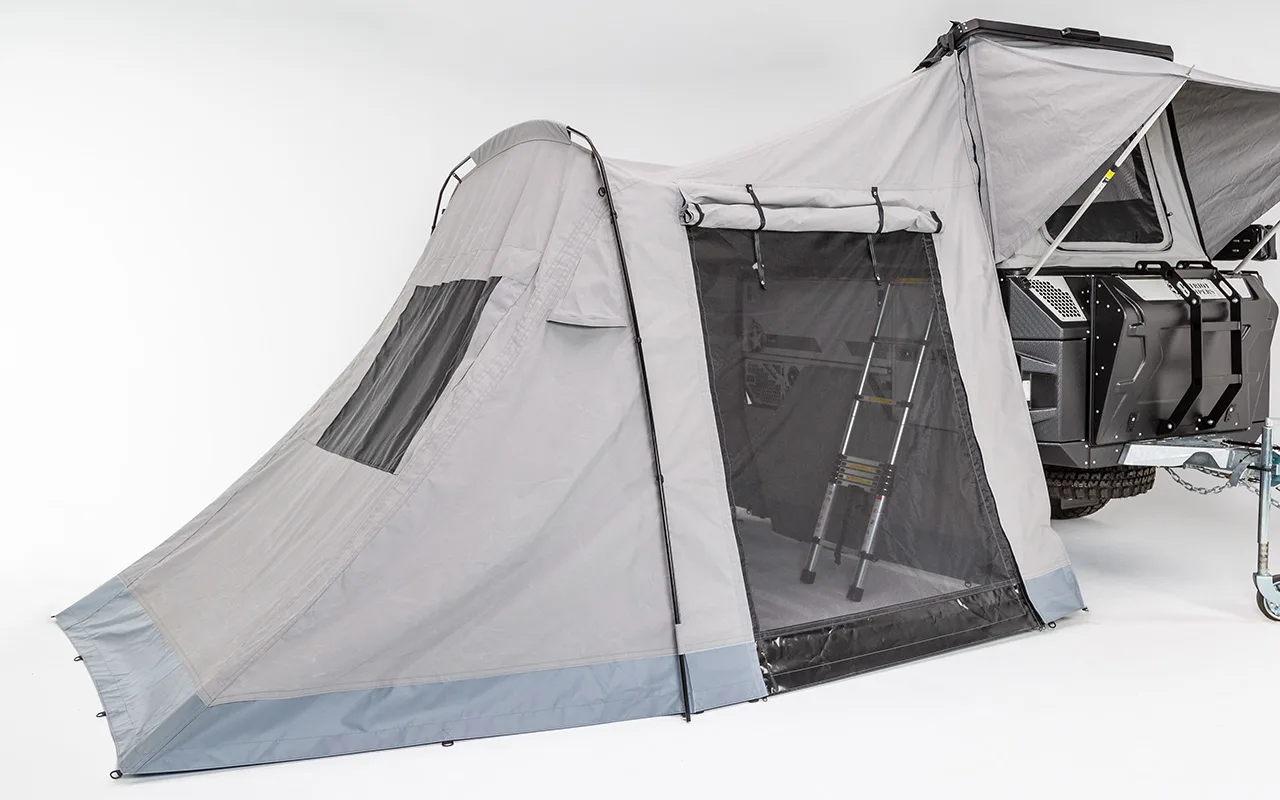 MULTI-ROOM
The multi-room on the X2 is a brand new design for Patriot Campers and it does exactly what the name suggests, its multi-function design caters to multiple situations and lifestyles. The multi-room serves as a reliable shelter from the elements and its spacious interior opens up a world of possibilities.
Transform the space into a dining area with a table and chairs, or create a cosy space for quality time with the family, or for those accommodating extra guests – there is plenty of space to set up a light tent or swag. Setting up the multi-room is a breeze – a testament to its user-friendly design. Simply Velcro the multi-room directly to the tent, add one bow, and secure it with guy ropes and pegs. In a matter of minutes the multi-room is ready, allowing you to focus on enjoying the great outdoors.
NEW REAR STORAGE SLIDE
Flexibility has been the name of the game when it came to designing the X2, We wanted to deliver a Camper Trailer that was customisable to suit the users needs. One of these customisable features is our all new rear storage slide system. This large rear drawer system can be optioned onto the X2 to improve the Camper Trailer's storage capabilities, transforming the storage compartment into the ideal space for accommodating large bulky items. Upgrade your camping experience by organising and accessing your gear with this user friendly storage solution, ensuring that the X2 is fully equipped to suit your lifestyle.
AIRBAG SUSPENSION 
Upgrade the suspension system in the GEN2 X2 with Progressive Rate Airbags, for the ultimate ride and the ability to level your camper trailer, no matter the terrain. (Includes onboard compressor and levelling gauge.)
PCOR® 261 SERIES WHEELS
The choice is yours when it comes to wheels on the X2. Option on a set of Signature 261 17″ Wheels by PCOR®. Offered in either a sleek Satin Black or a refined Machined faced finish.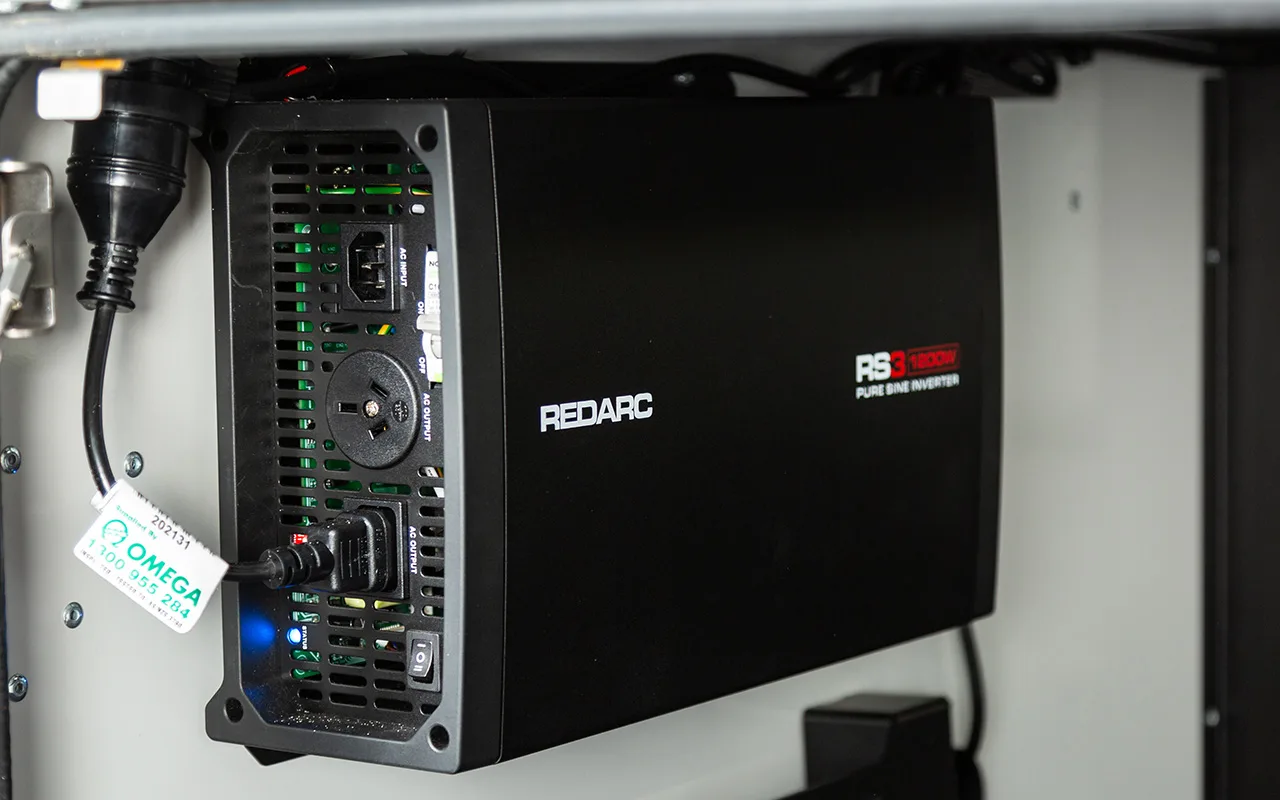 1200w INVERTER
For added convenience, option on the 1200W REDARC RS3 inverter, giving you the ability to power electronic devices with ease at camp or on the go. (For all USA applications, REDARC 110V Inverter Supplied). 
75L DUAL ZONE FRIDGE/FREEZER
The fridge compartment in the L-Shaped kitchen of the X2 has been perfectly designed to house the optional CFX3 75L Fridge/Freezer from Dometic. This portable fridge/freezer produces seriously impressive cooling, allowing you to bring more of the food and drinks you love. Its robust design is built for tough outdoor use and dual zone storage compartments have independent temperature control which enables simultaneous cooling and freezing.
BBQ SWING AWAY PLATFORM
Build out the Front Box AKA "The Man Cave" with the optional BBQ Swing Platform on the X2. Specifically designed to fit a Weber Baby Q.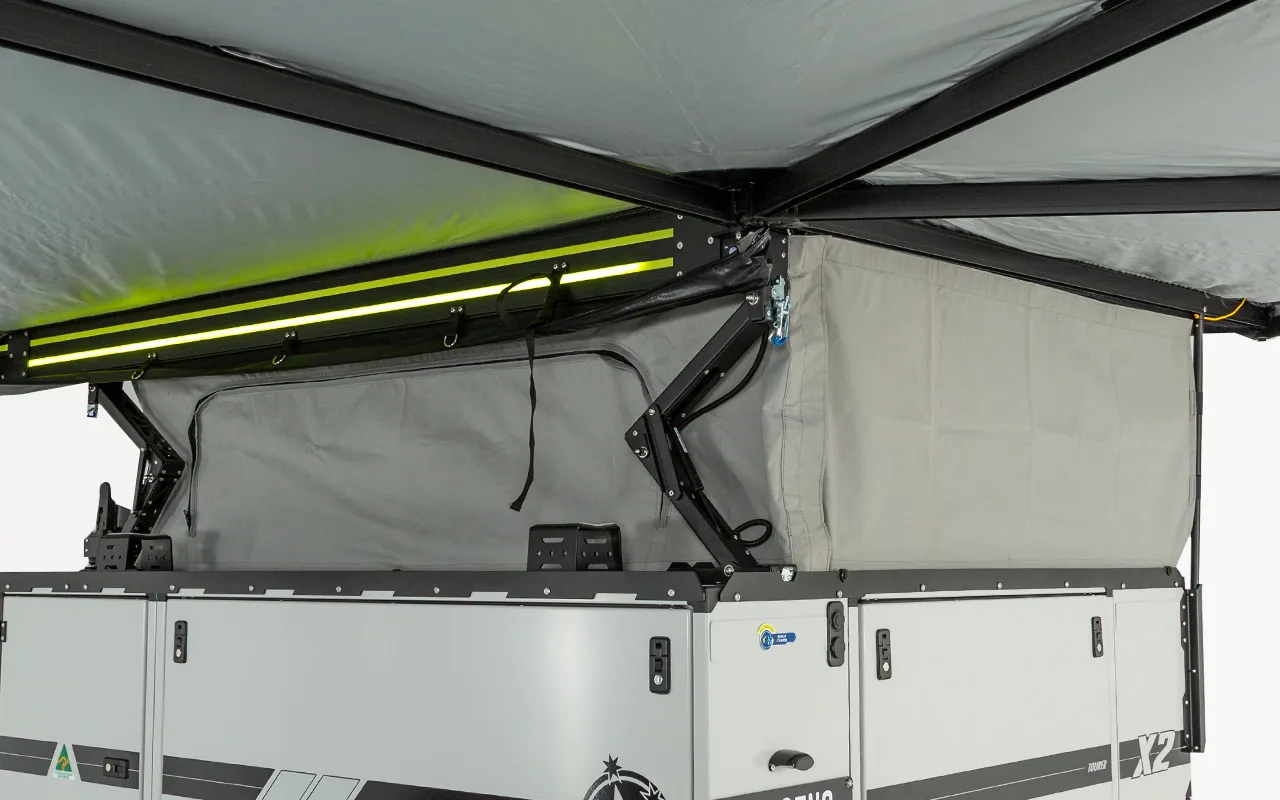 AWNING INFILL PANELS
Infill panels can be optioned on and act as a protective barrier, shielding the outside areas of the X2 from elements such as rain, wind, and debris, ensuring a comfortable camping experience.  
SECOND LIHTIUM BATTERY
You have the option to include a 100AH lithium battery on the X2. This high-capacity battery not only enhances the camper trailer's energy storage capabilities but also provides an extended power supply for on-the-go adventures
PCOR® MAXTRAX
The X2 offers the versatile option of mounting a set of PCOR® Maxtrax on the roof. Having Maxtrax's readily available means you're well-prepared for unexpected situations where additional traction is required.
Diesel Hot Water & Tent Heater
The X2 can be optioned with a new diesel hot water system that provides hot water on demand to the kitchen sink and the fixed shower hose. This new system can also heat your tent faster and more effectively than ever before.
TENT HEATER VENTS
Experience ultimate comfort in your sleeping space, with thoughtfully placed heating vents encircling the main bed area, ensuring efficient heat distribution and a cosy, inviting atmosphere throughout the trailer.
PATRIOT CAMPERS X2 TOURER
PATRIOT CAMPERS X2 TOURER

KEY FEATURES
Patriot Campers has taken comfort to new heights within the X2's integrated roof top tent. Nestled inside, a foam mattress ensures a spacious and luxurious retreat. The design of the X2 prioritises comfort, recognising its importance for every camper. The tent features two large zippable windows on either side, promoting excellent ventilation, and a sizable window that unrolls from the front of the camper trailer, maintaining a consistent flow of fresh air. The X2 is equipped with the capability to extend a front awning, strategically covering the ladder. This feature not only provides a sheltered area for accessing the tent but also offers added protection against the elements, ensuring your camping experience remains comfortable and uninterrupted, regardless of the weather conditions.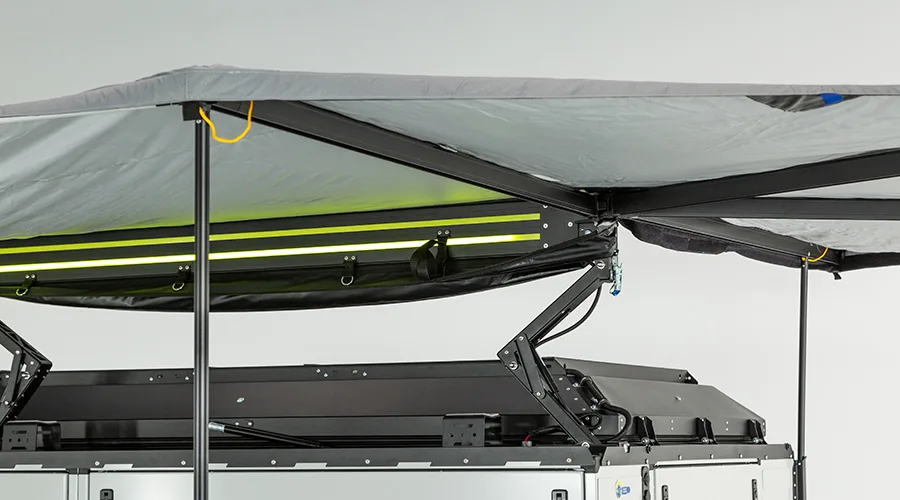 12.25M coverage, UPF 50+ rating, integrated poles and guy ropes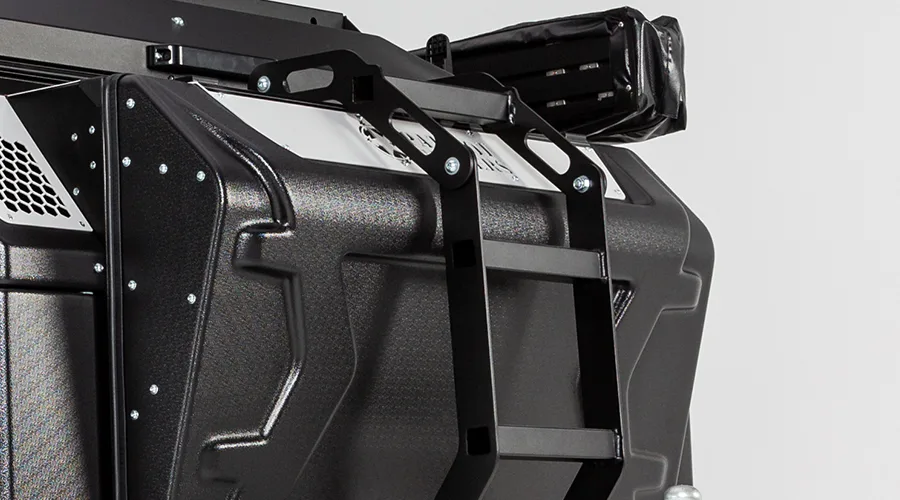 ITEGRATED
TENT ACCESS LADDER
Located on the Front Box. Accessable from the Drawbar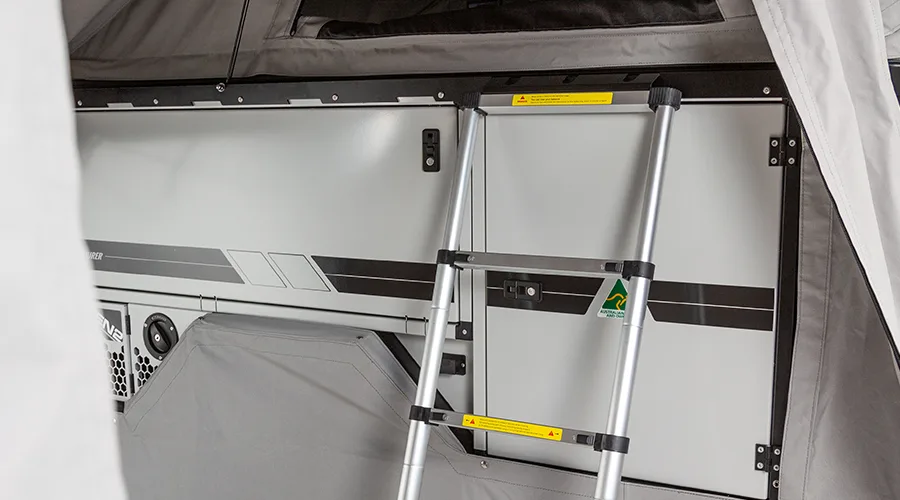 Tent Access from the Side
Stored in the Rear Storage
Additional Room Attachment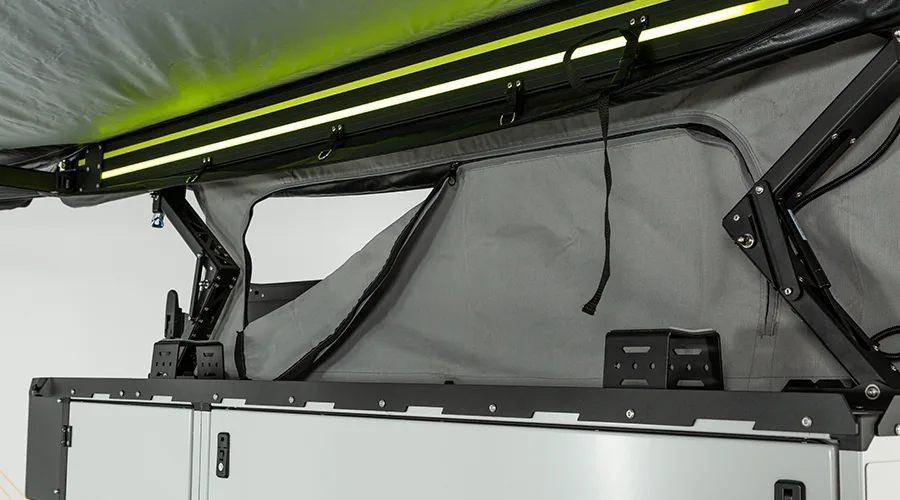 Awning to Kitchen Infill Panels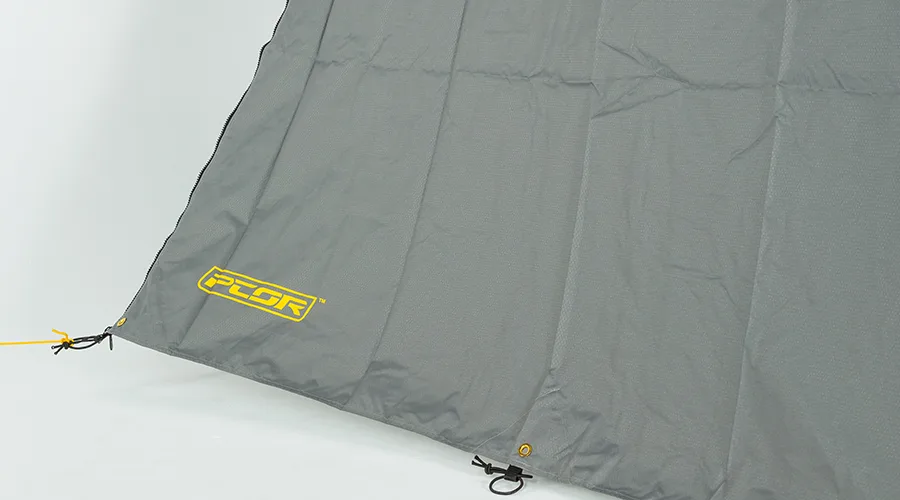 PCOR® AWNING WIND WALL KIT
Includes 6 Walls and 2 Poles
The Patriot Campers X2 features an L-shaped kitchen design for an elongated layout with functionality in mind, mimicking your kitchen at home. This thoughtfully crafted design enhances the outdoor cooking experience with a range of features, including slide-out shelving, an integrated spice rack, a spacious sink with hot and cold water, a Dometic stove and grill and a scratch-resistant stainless steel bench top. The X2's kitchen is further customisable with optional additions such as the BBQ swing-away platform and a 75L Dometic CFX3 75DZ fridge/freezer. A pressurised water pump delivers running water to your kitchen's wet area and a heating system can be optioned to deliver straight to the kitchen sink.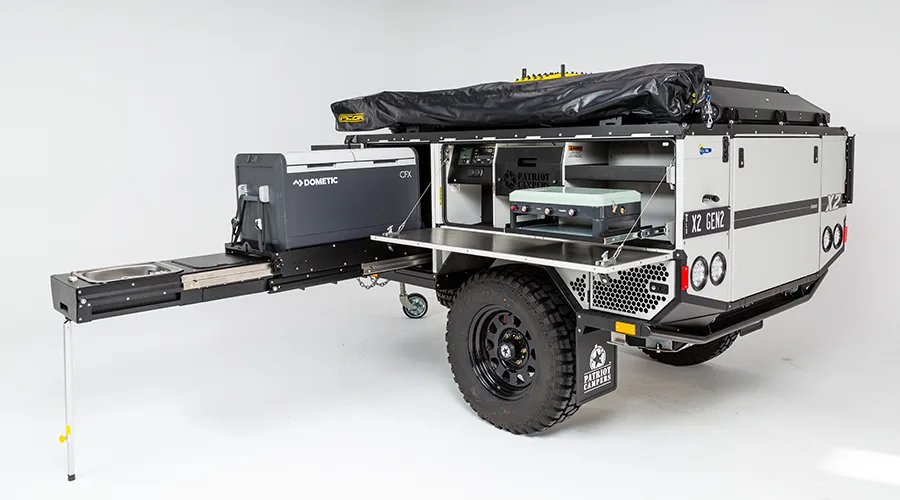 Convenience of a home kitchen right to the campsite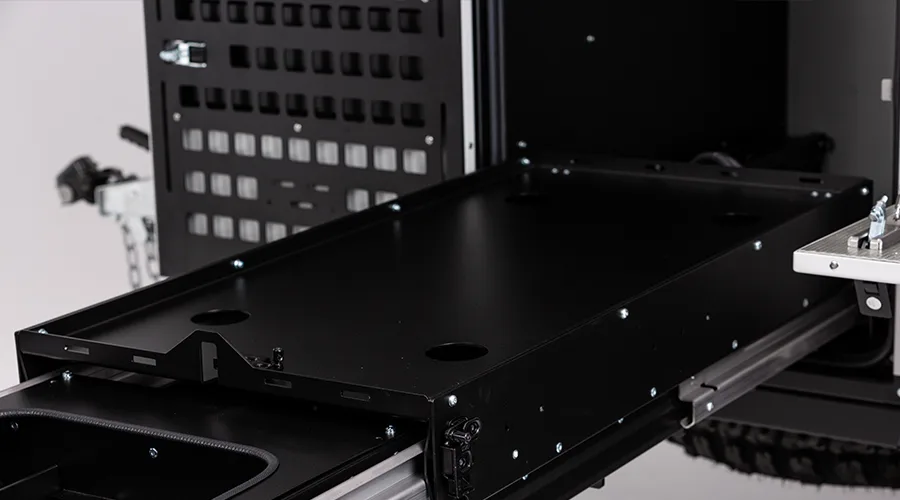 Designed to fit a 75L CFX3 DOMETIC fridge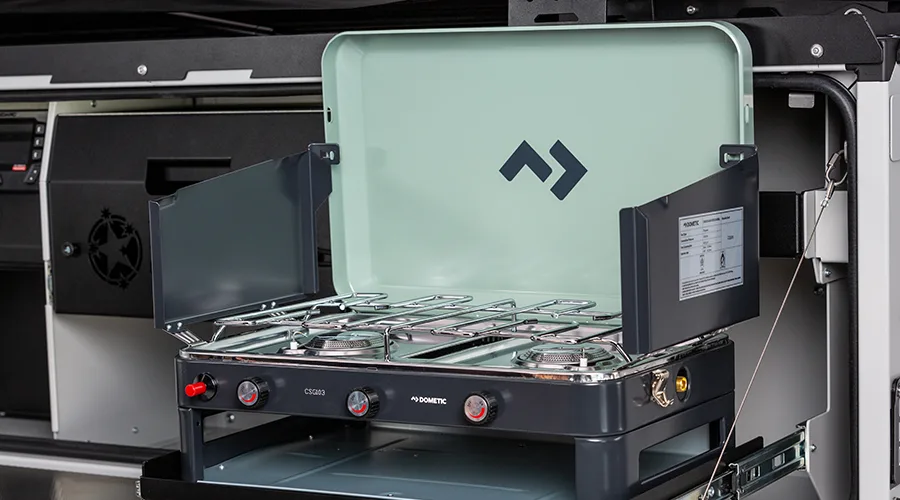 Twin Burner Gas Stove & Grill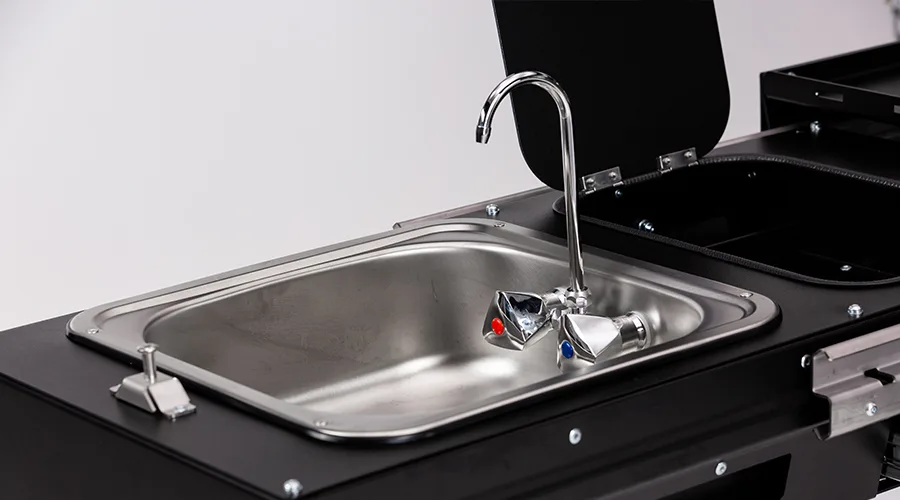 Modern stainless steel sink
Scratch Resistant Bench Top
Stainless steel, scratch-resistant kitchen bench top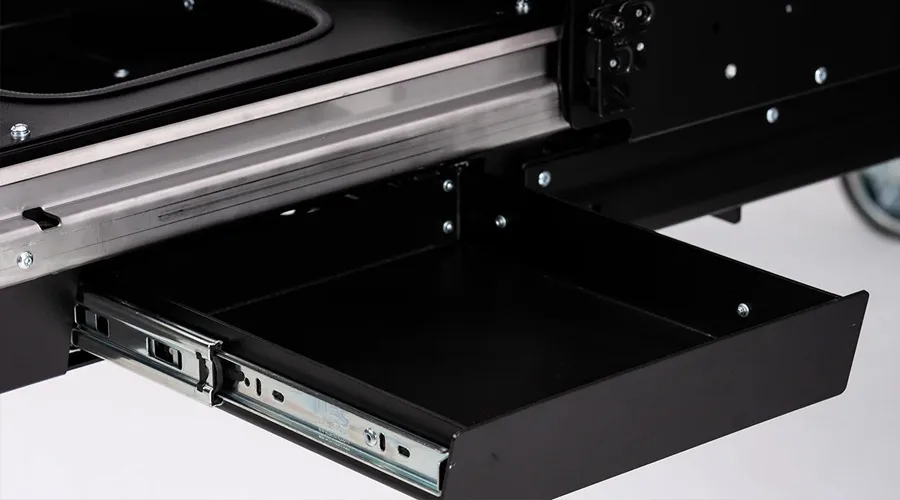 Convenient storage for plates & cutlery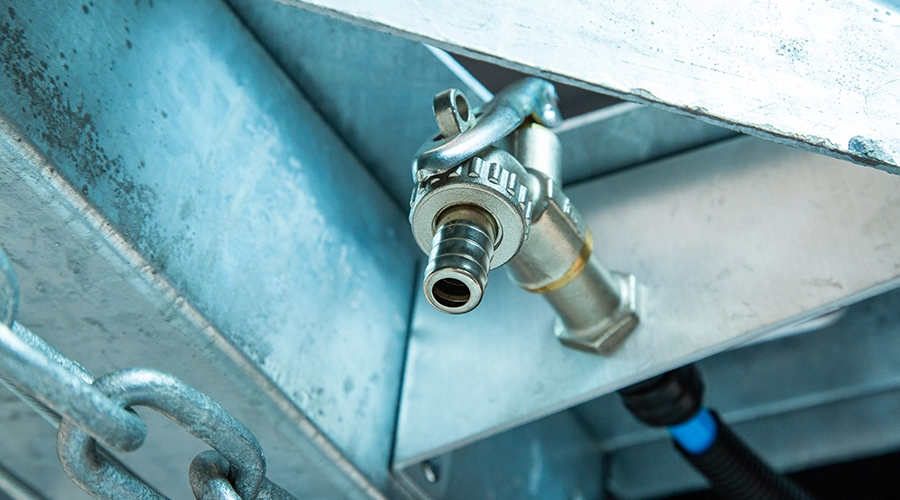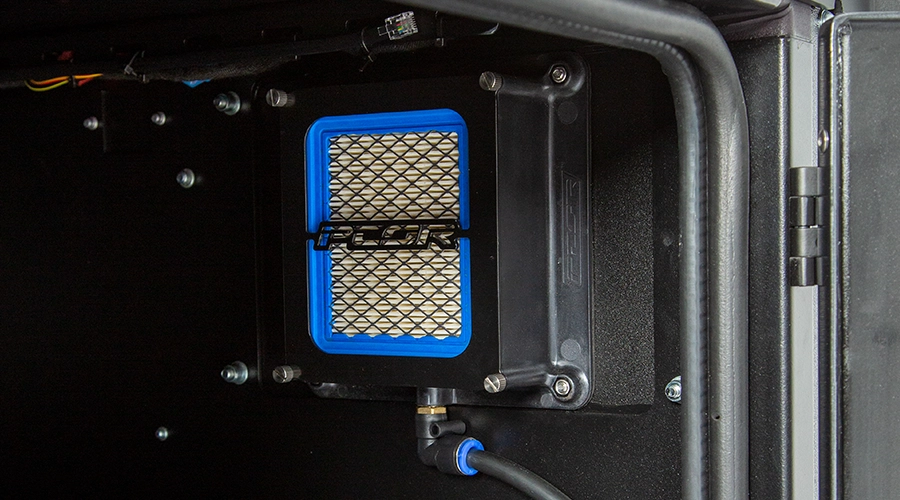 PCOR® AIR FILTER CARTRIDGE
Designed For Superior Airflow & Draining
DIESEL HOT WATER & TENT HEATER
With Front Box Shower Kit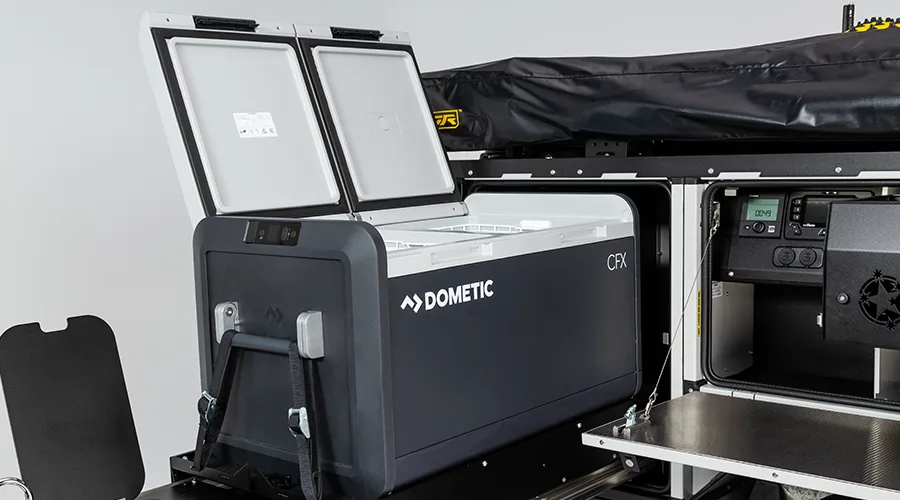 Dometic CFX3 75L inc Tie Down and Anderson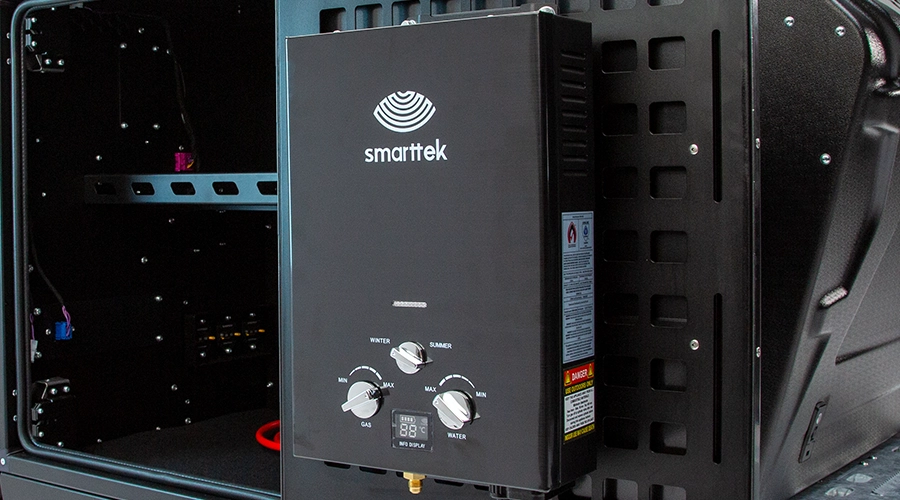 Includes 5m hose, Shower Rose & Mounting Kit
(Q1000) with Tie Down Kit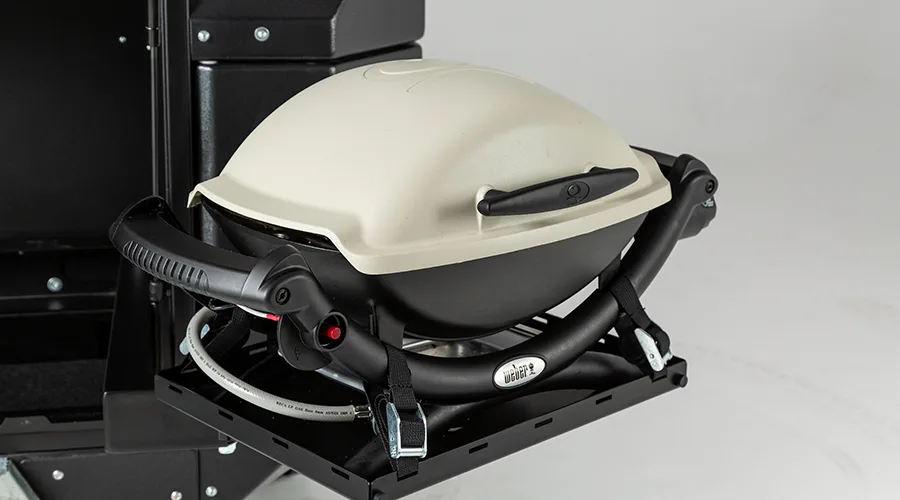 Platform Swing Away Located in the Front Box
TRUMA BLUETOOTH CONTROLLER INET
Connect the Truma Diesel Heater to your Smartphone
Designed to conquer challenges with ease, the X2 flaunts a formidable 36° departure angle and a robust all-steel rear bumper, making no terrain too formidable. Tackle obstacles with unwavering confidence, supported by the 17″ steel wheels and 33″ mud terrain tyres that provide exceptional traction. Experience unparalleled stability and control, courtesy of the X-Cruise™ suspension system and 12″ electric brakes.
The X2 stands tall on a lightweight yet robust hot-dipped galvanised steel RIGILITE™ chassis, the perfect blend of strength and compactness. This chassis accommodates a spare tyre underneath and is equipped with two recovery points, with a combined 1600kg load rating.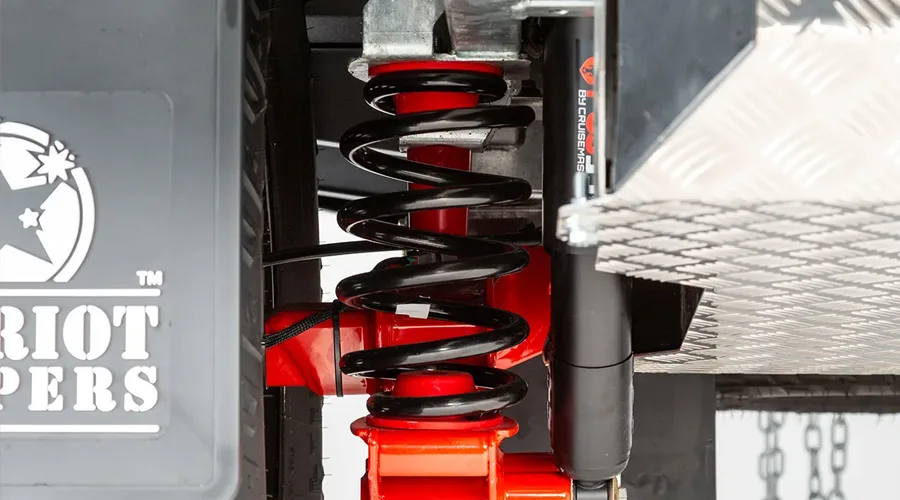 X-Cruise™ Coil Suspension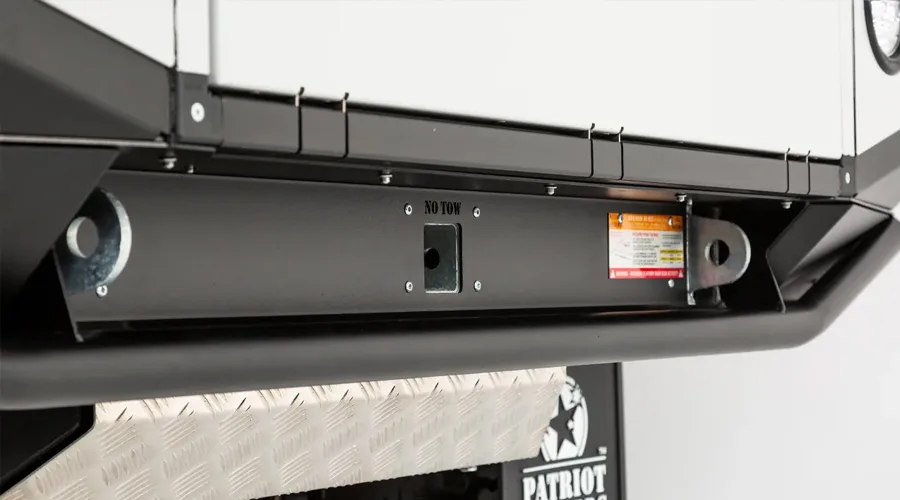 Combined 1600kg Load Rating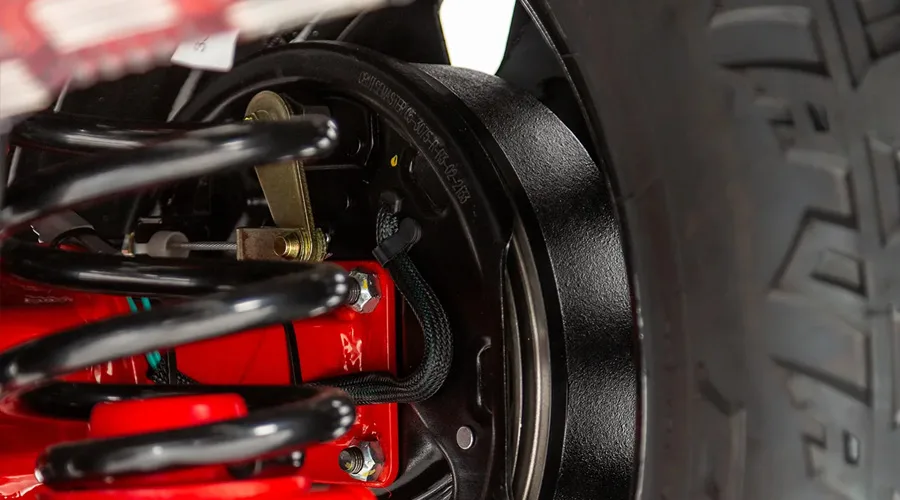 With 33" Mud Terrain Tyres (x2)
Under-body Space Saver Spare Wheel & Tyre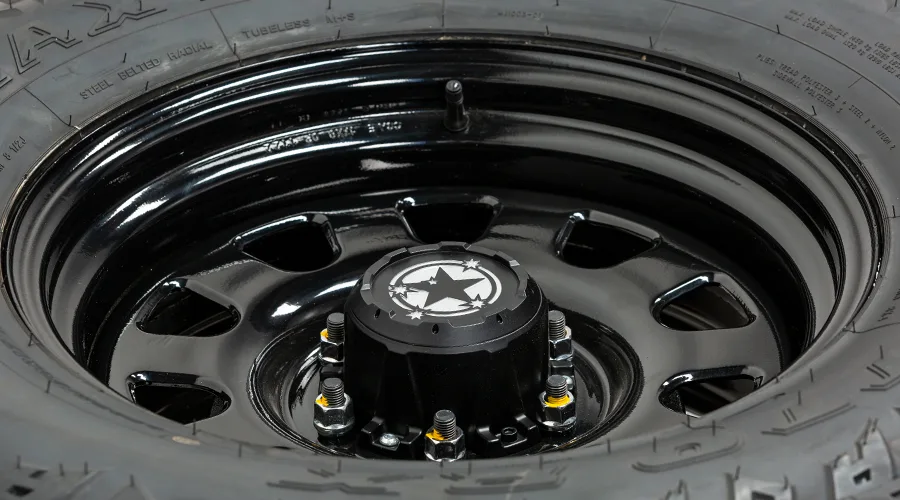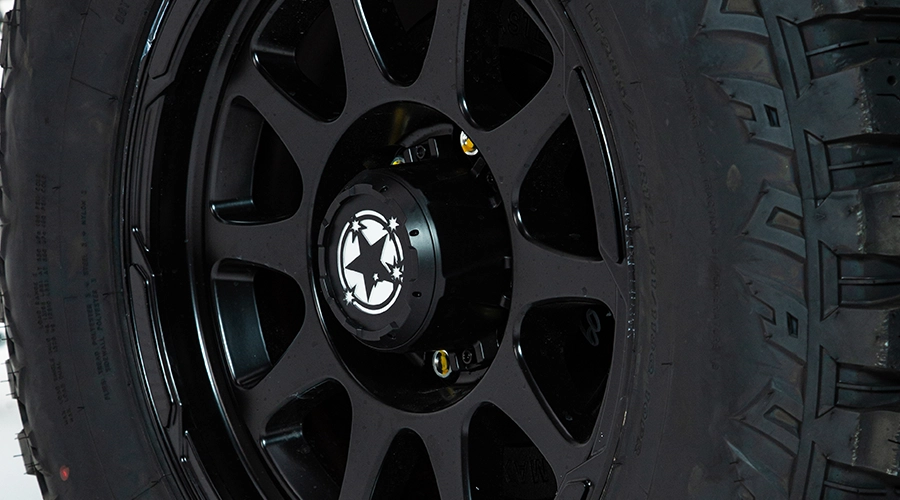 17x8" P15 Rims
Available in Black or Machined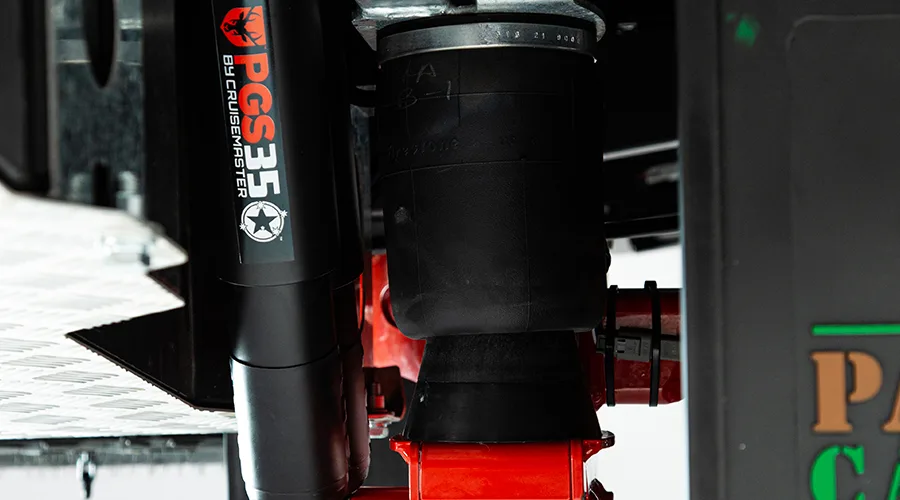 AIR BAG SUSPENSION UPGRADE
With On-board Compressor and Gauge
The body of the X2 is meticulously engineered to meet all your organisational needs. With an impressive storage capacity of over 2050 litres (72FT³), the X2 offers plenty of space for effortless gear organisation. These storage compartments provide convenience and ease when it comes to arranging your belongings. Whether you're embarking on a weekend getaway or a longer touring trip, the X2 Camper Trailer ensures that you have ample room for all your essentials.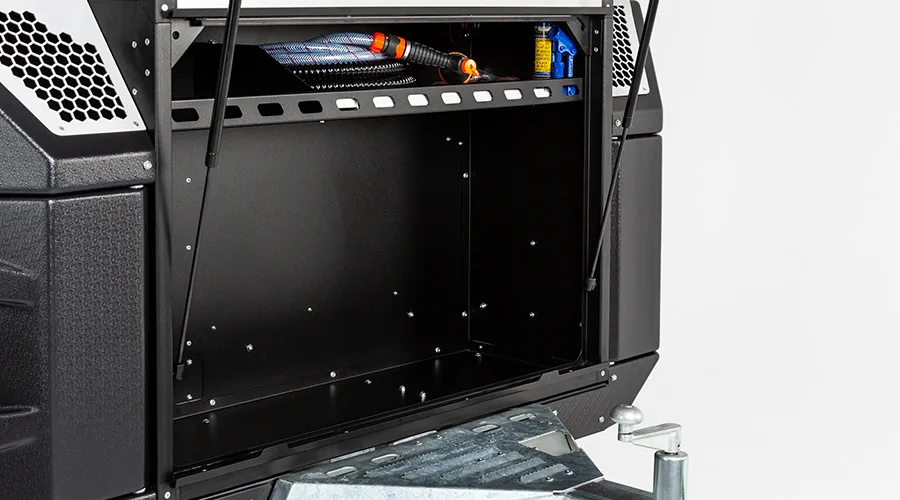 Impact Resistant with Built-in Utility Shelf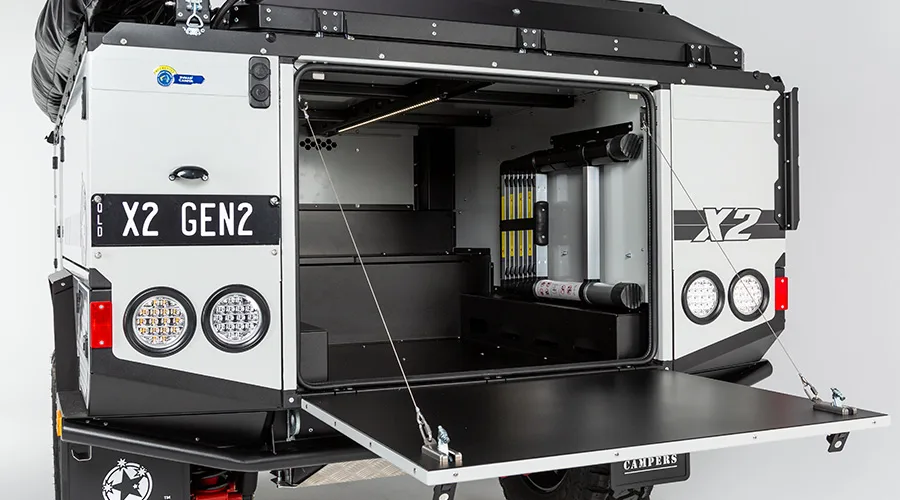 Suitable for Storing Bulky Items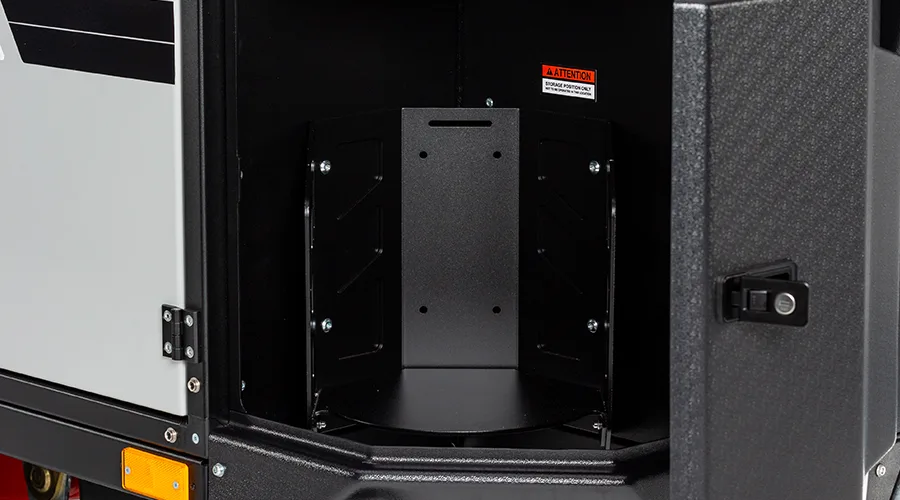 2x Gas Bottle Holders (4.5kg Each)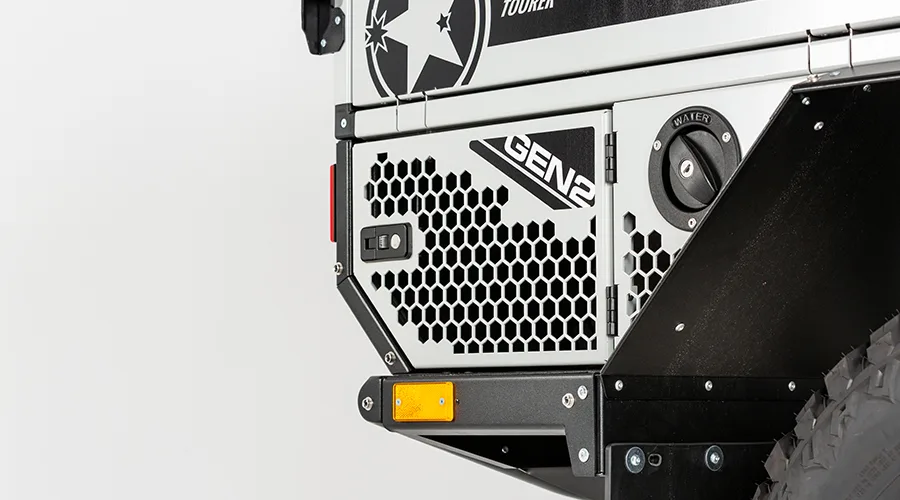 2x Wet Box Storage Compartments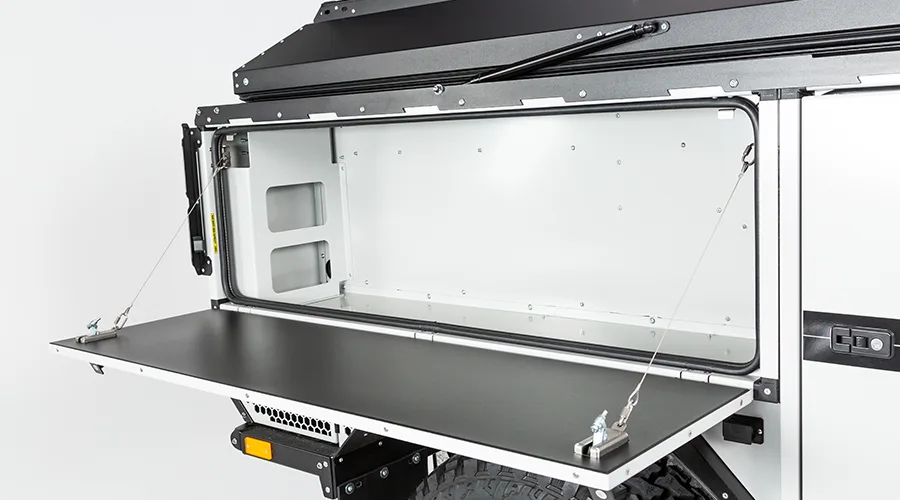 Slide-out Rear Drawer for Easier Packing
Additional Storage Drawers Located Above the Kitchen
Carpet for Internal Storage Compartments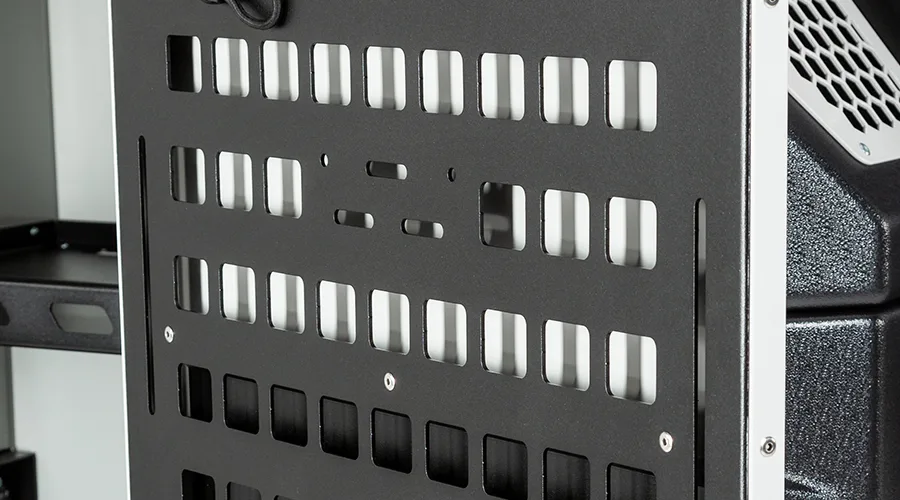 Military Design for Additional Storage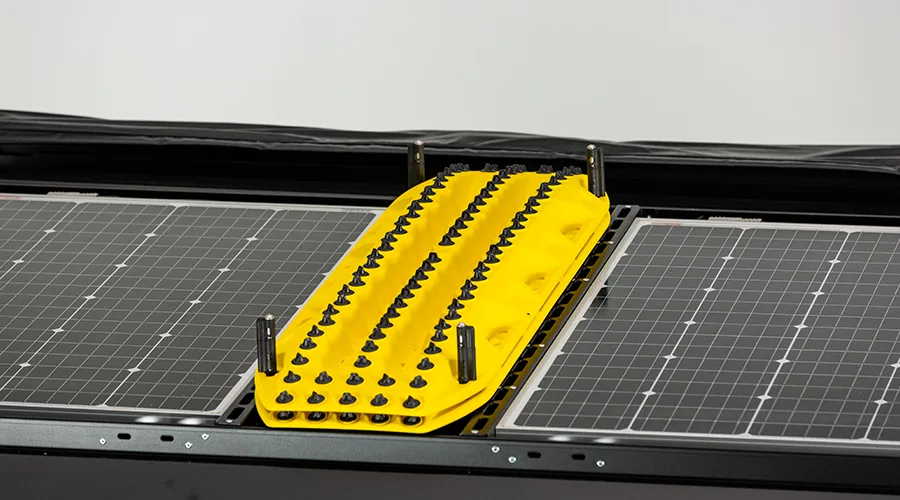 PCOR® Maxtrax & Roof Maxtrax mounts
Control all electronics and lighting in X2 through the REDARC TVMS or the Campers app, providing you with a user-friendly and efficient power management system. The X2 boasts rapid DC charging capabilities from multiple sources, including the 12V charger input, solar input, and car alternator input. The X2 offers adaptability to various power sources by allowing the use of the provided 240 to 12V charger. To further enhance convenience, there's an optional 1200W inverter, offering the flexibility to power electronic devices effortlessly while you're on the move.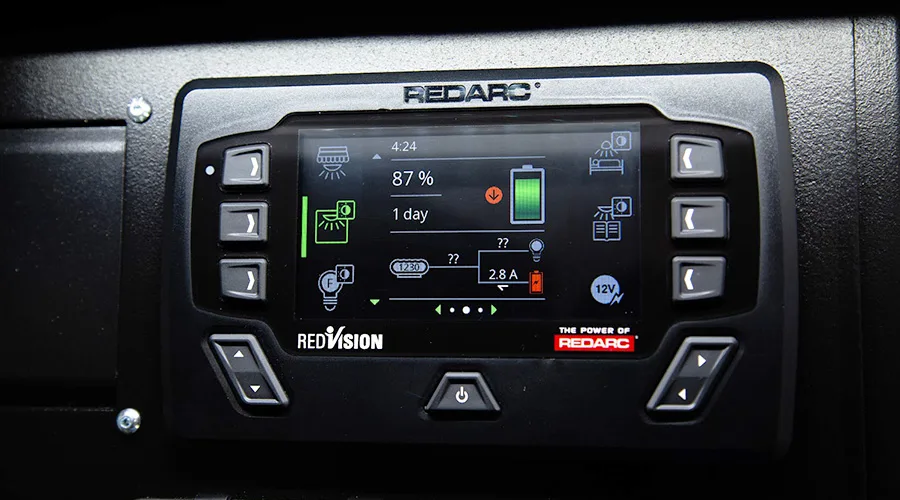 with REDARC Rogue Control Module
2x Roof Mounted 120W Solar Panels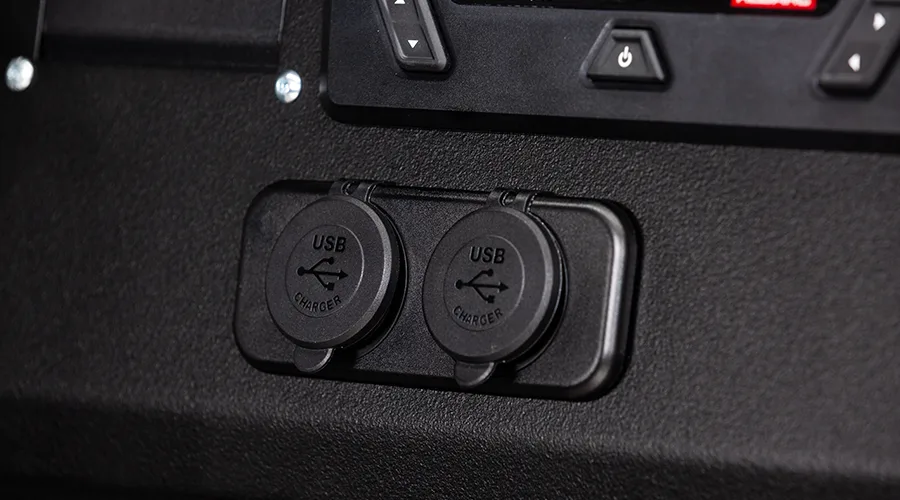 USB Charging Ports Located in the Kitchen and Rear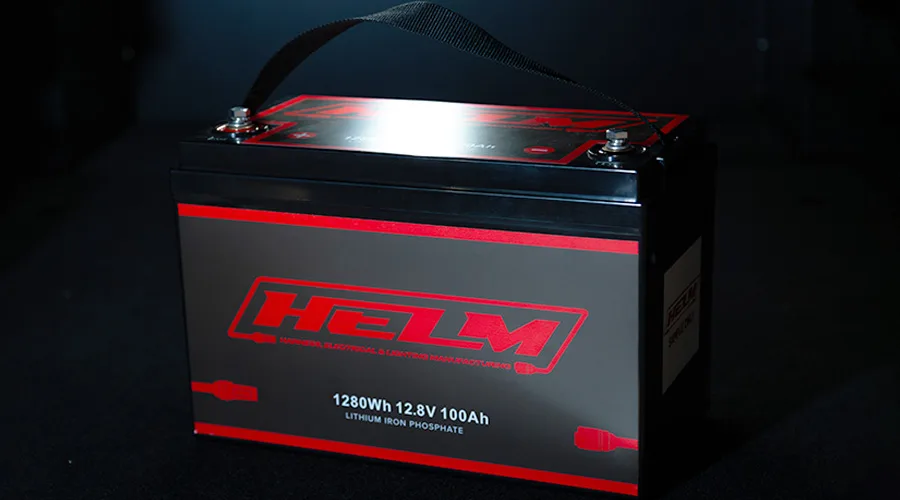 Lithium 100AH LIFEPO4 Battery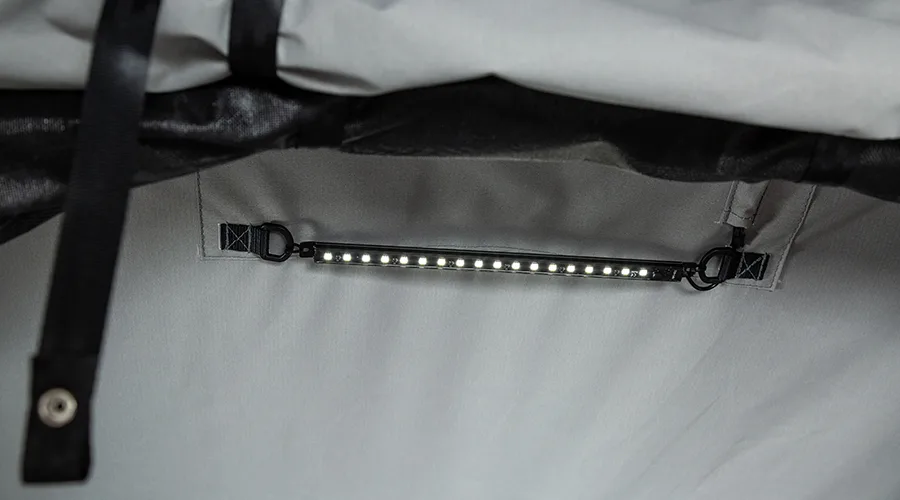 Built-in Internal Tent LED Lights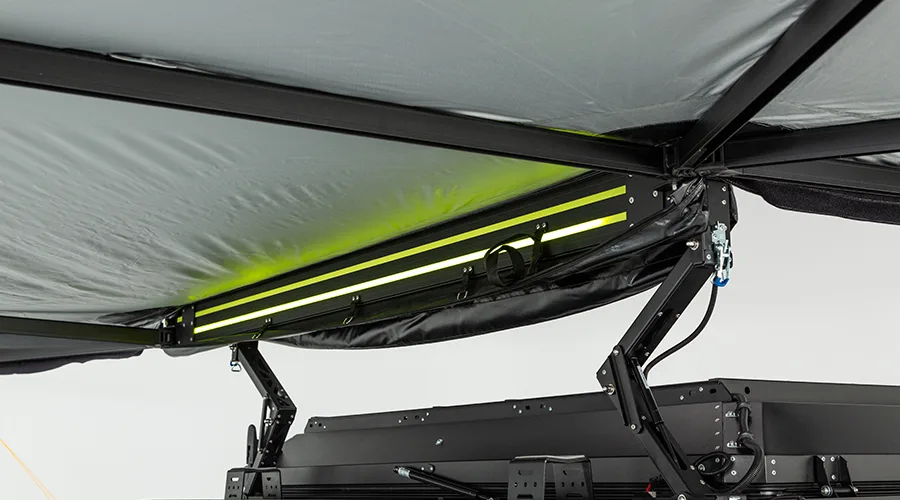 Built-in Awning LED Lights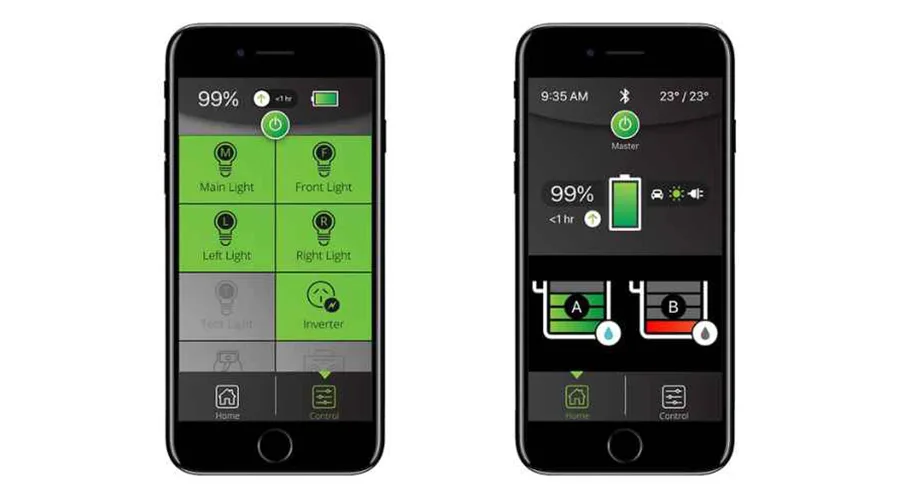 App Control with Redvision Display
Additional Lithium 100AH LIFEPO4 Battery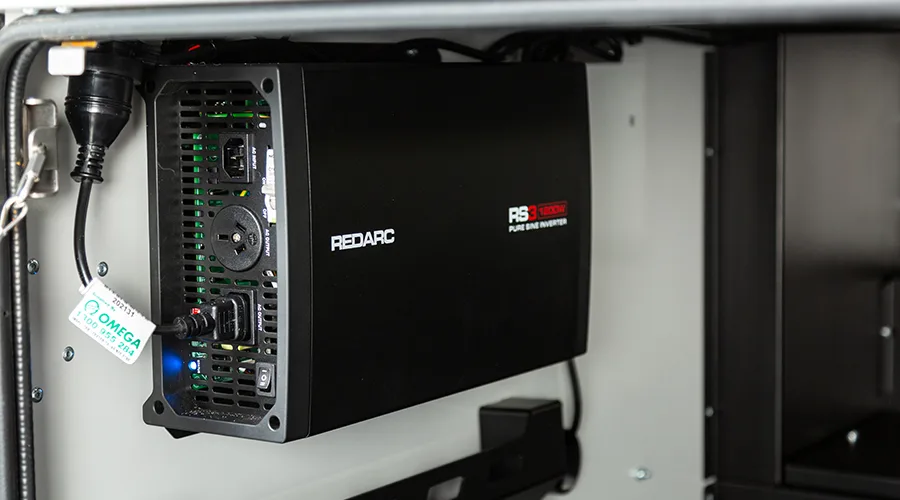 Includes Movable Power Outlets. (RS3 Inverter Not Available in US Trailers)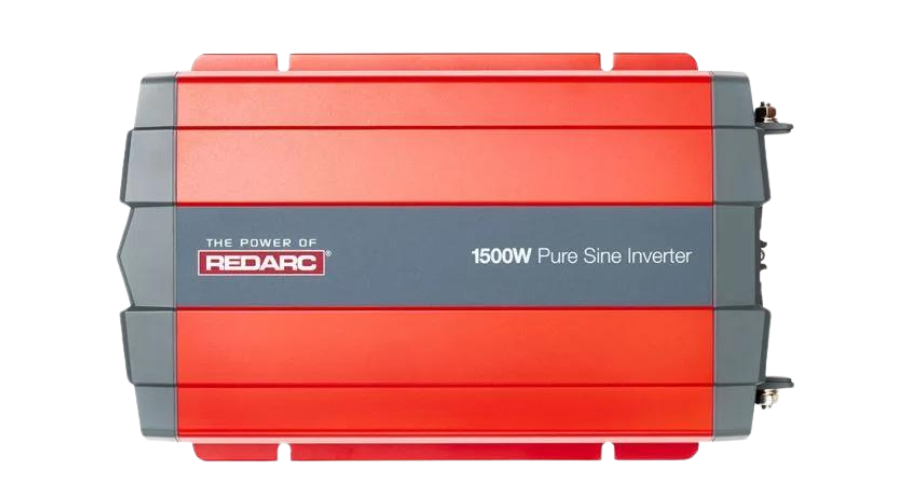 For all USA applications, REDARC 110V Inverter Supplied
PATRIOT CAMPERS X2 TOURER

IMAGE GALLERY
PATRIOT CAMPERS X2

TECHNICAL SPECS
TOTAL LENGTH: 3.70M (12.1FT)
TOTAL HEIGHT: 1.7M (5.6FT)
TOTAL WIDTH: 1.86M (6.1FT)
DEPARTURE ANGLE: 36°
DRY TARE WEIGHT: 850kg (1874 lbs)*
ATM: 1600kg (3500 lbs)
STORAGE: 2050L (72FT³)
DRAW BAR WEIGHT: 140kg (309 lbs)
*information may vary
PATRIOT CAMPERS X2 TOURER

OPTIONS & ACCESSORIES
STANDARD
INCLUDED FEATURES
OPTIONS
ADDITIONAL FEATURES
ACCESSORIES
ADDITIONAL FEATURES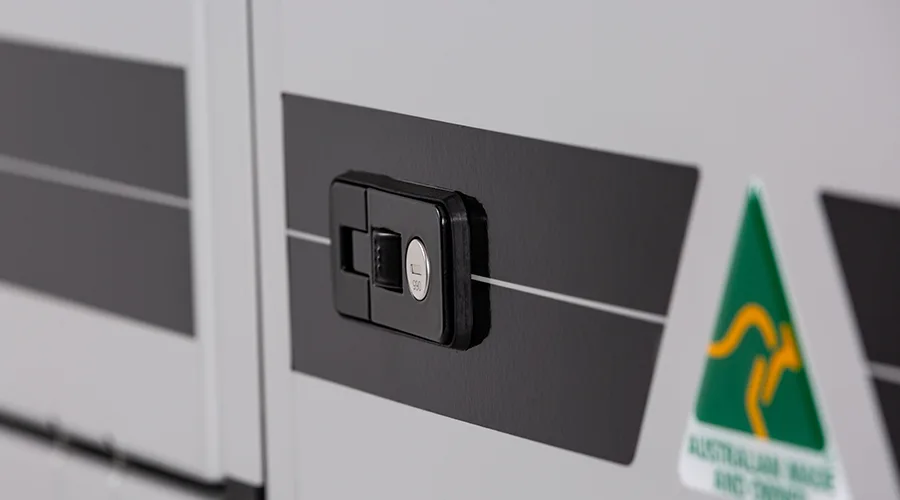 Compression Latches on all Doors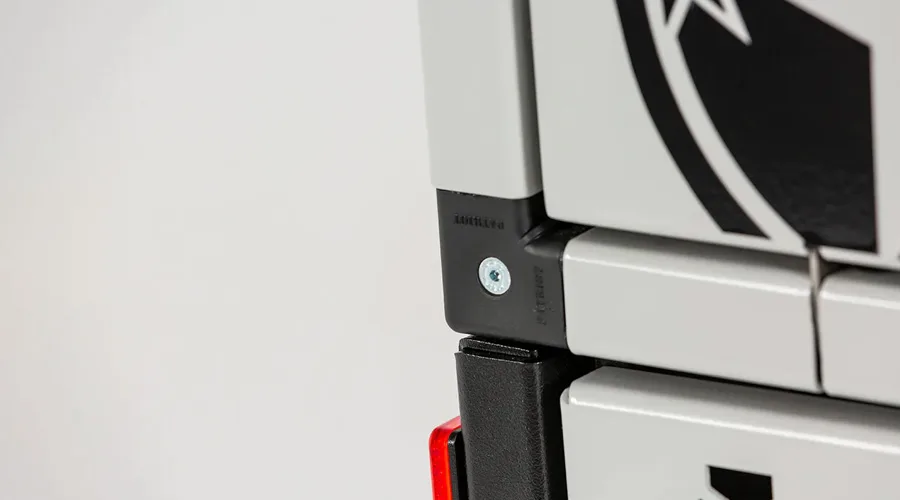 Flexible Body Panel Construction
Ensuring Longevity of Moving Components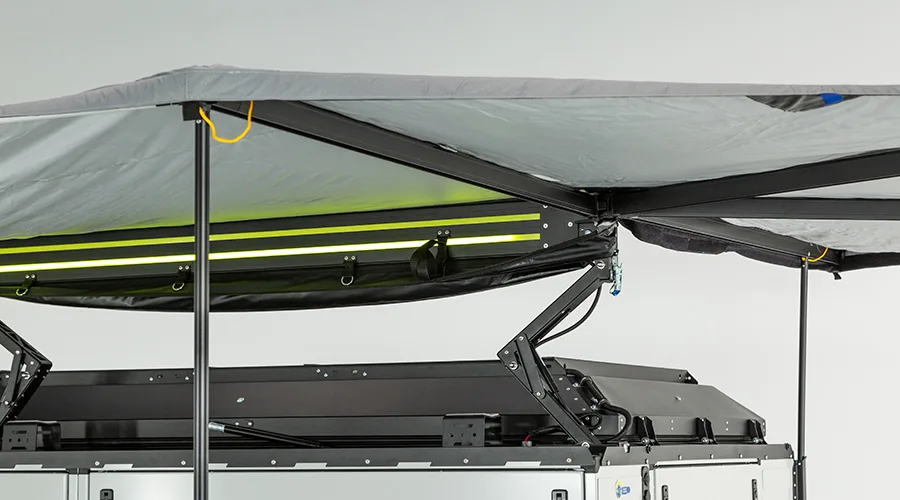 12.25M coverage, UPF 50+ rating, integrated poles and guy ropes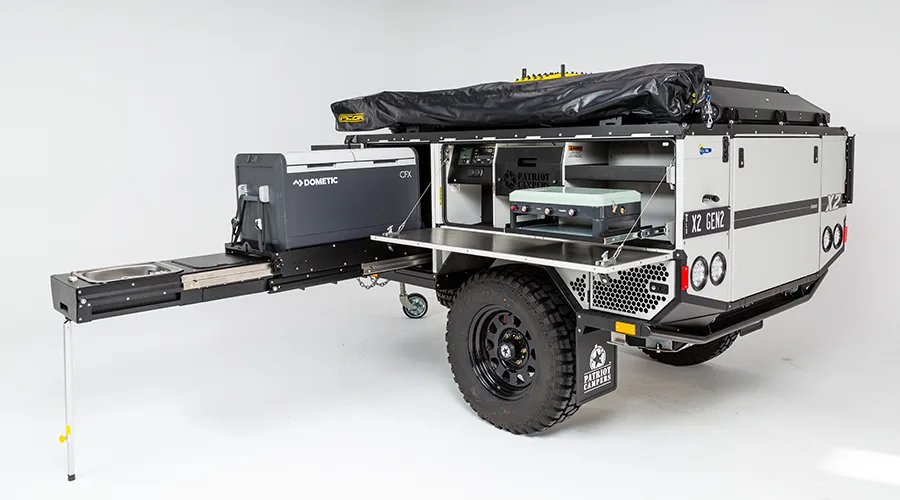 Convenience of a home kitchen right to the campsite
Scratch Resistant Bench Top
Stainless steel, scratch-resistant kitchen bench top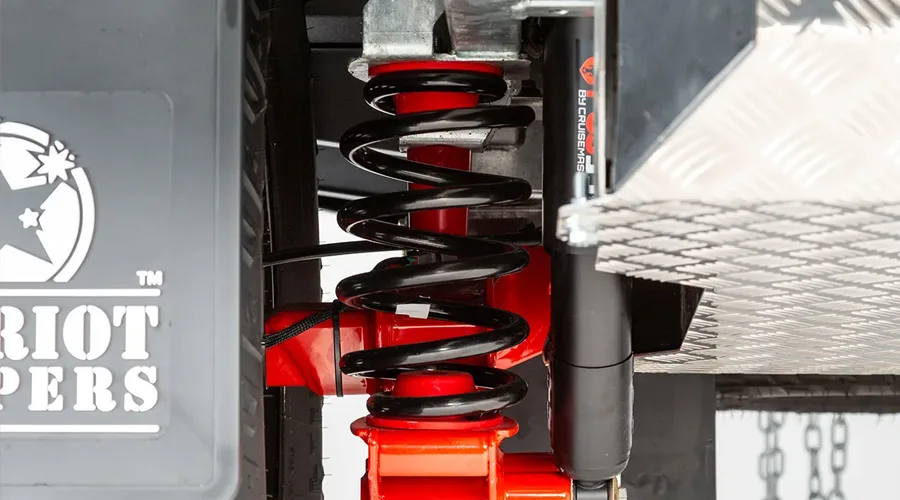 X-Cruise™ Coil Suspension
Under-body Space Saver Spare Wheel & Tyre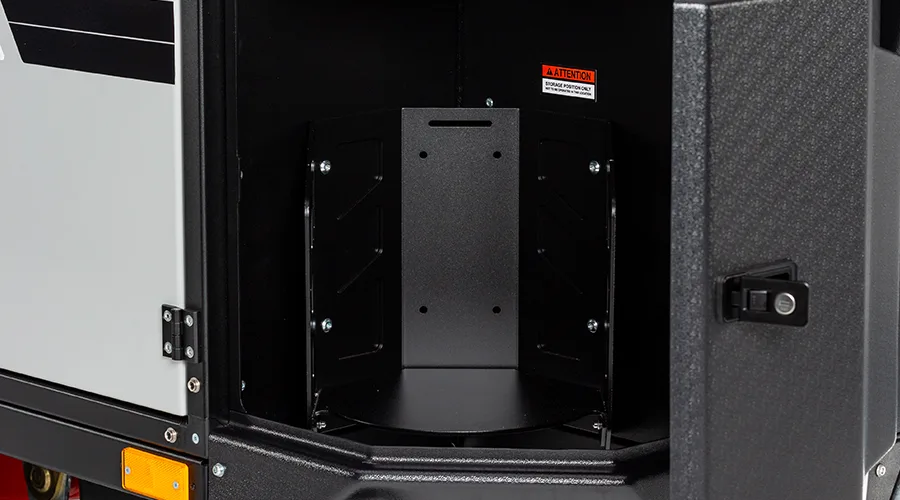 2x Gas Bottle Holders (4.5kg Each)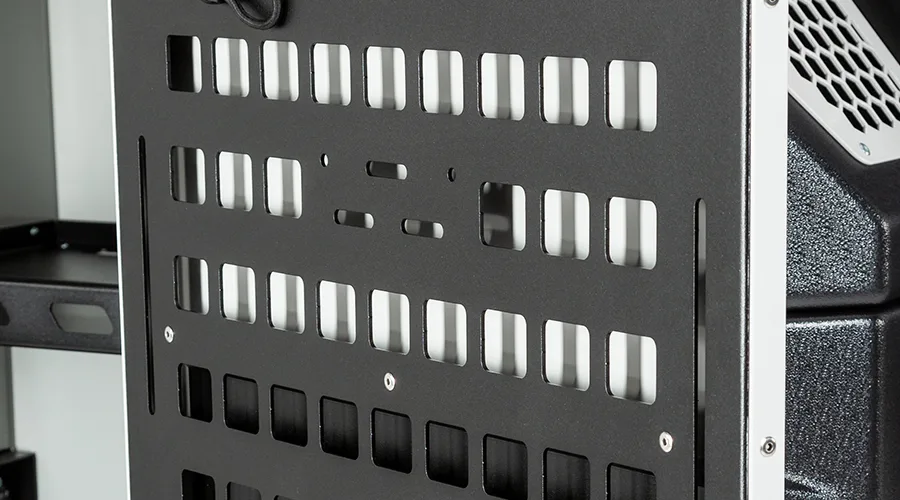 Military Design for Additional Storage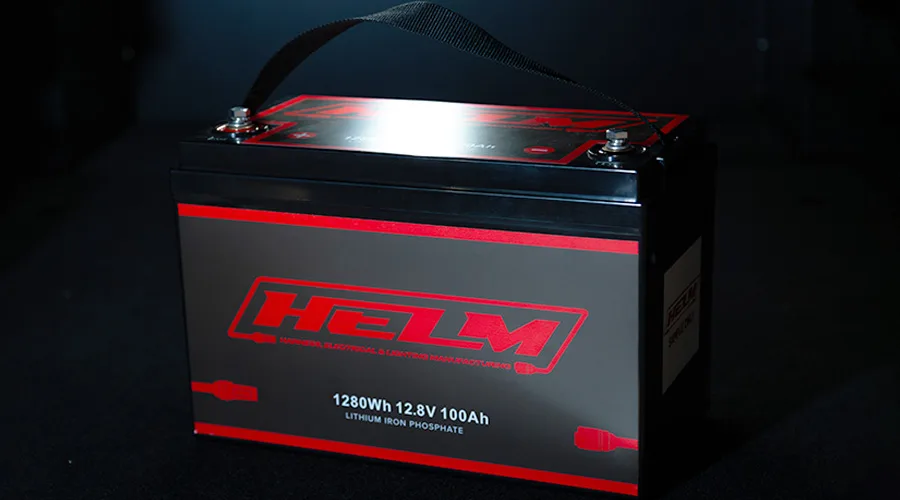 Lithium 100AH LIFEPO4 Battery
Built for the Toughest Terrains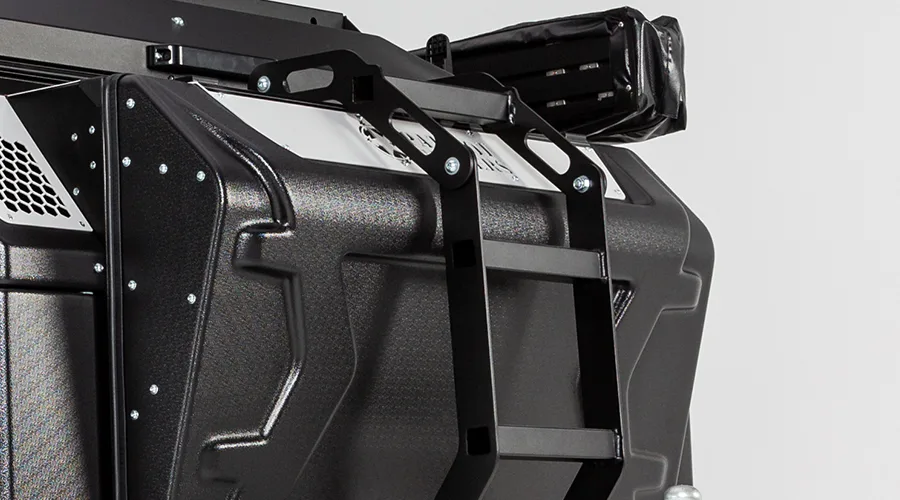 INTEGRATED
TENT ACCESS LADDER
Located on the Front Box. Accessable from the Drawbar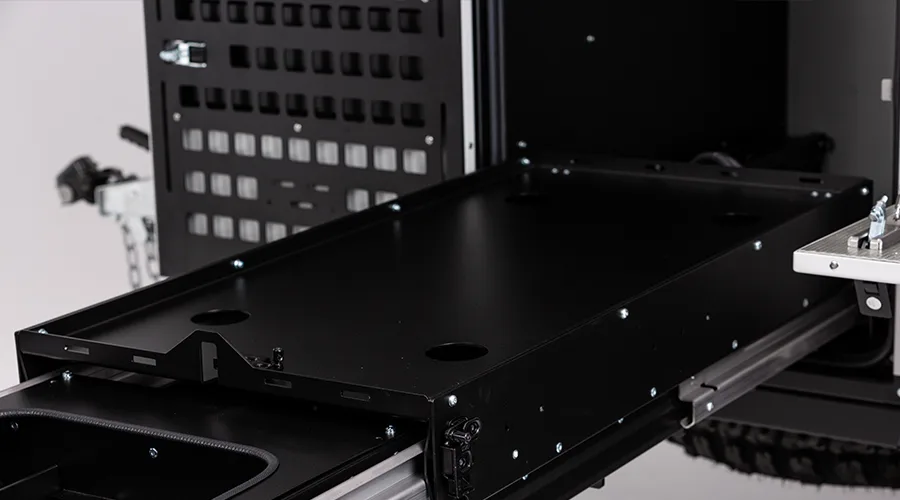 Designed to fit a 75L CFX3 DOMETIC fridge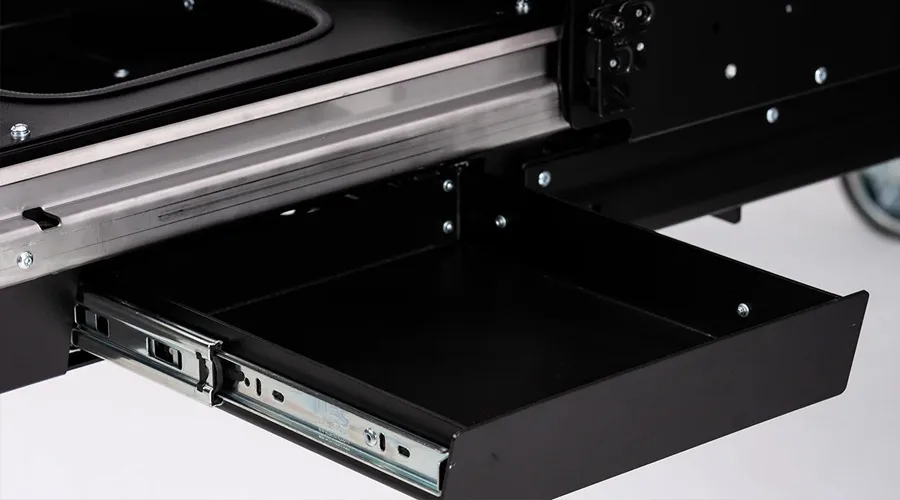 Convenient storage for plates & cutlery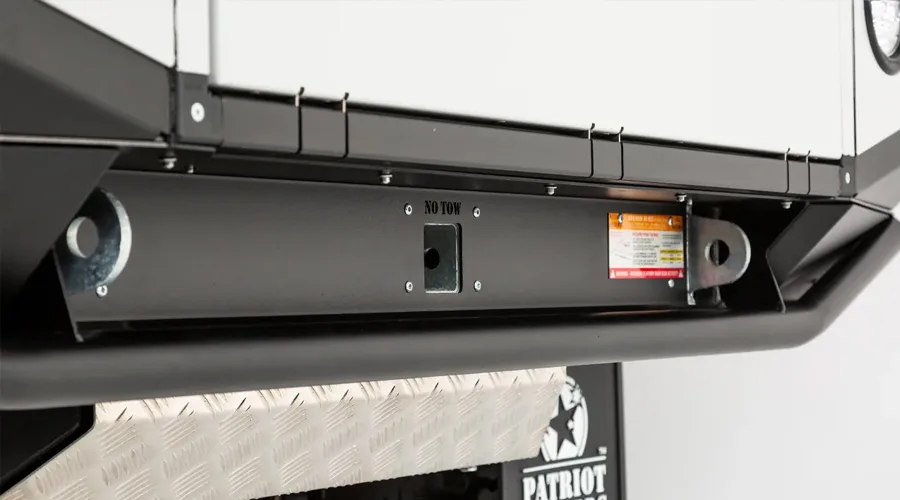 Combined 1600kg Load Rating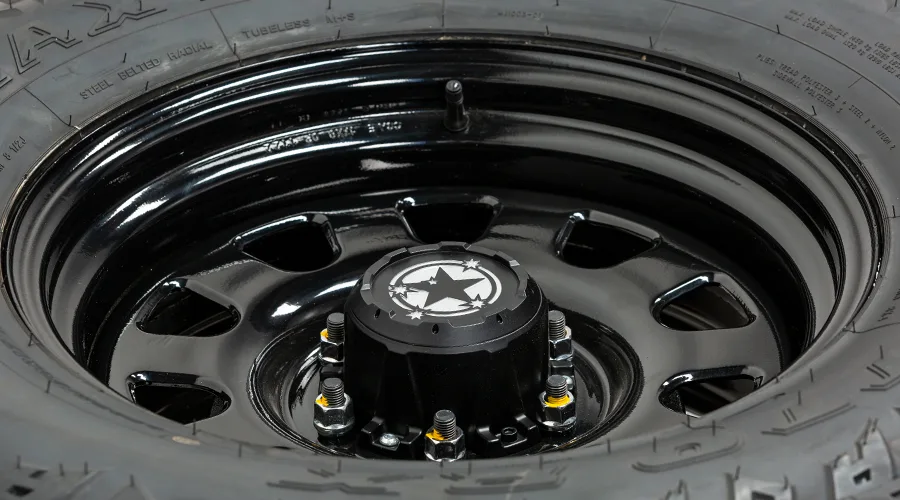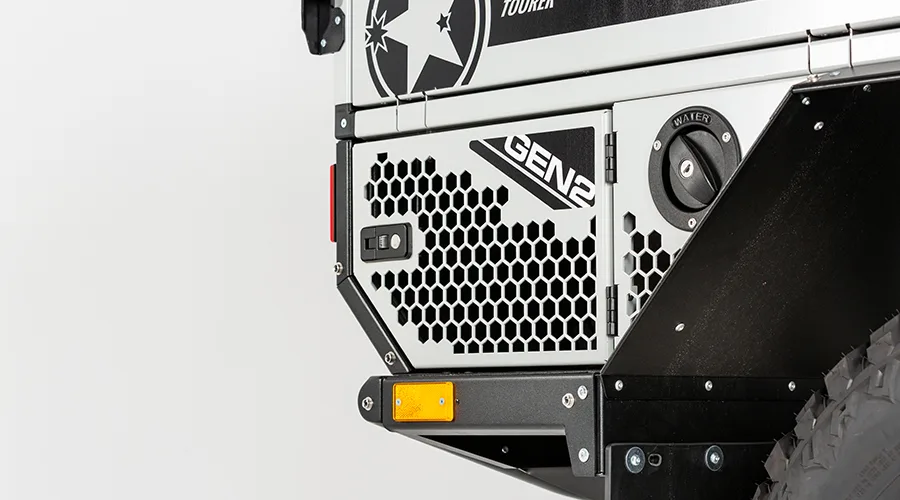 2x Wet Box Storage Compartments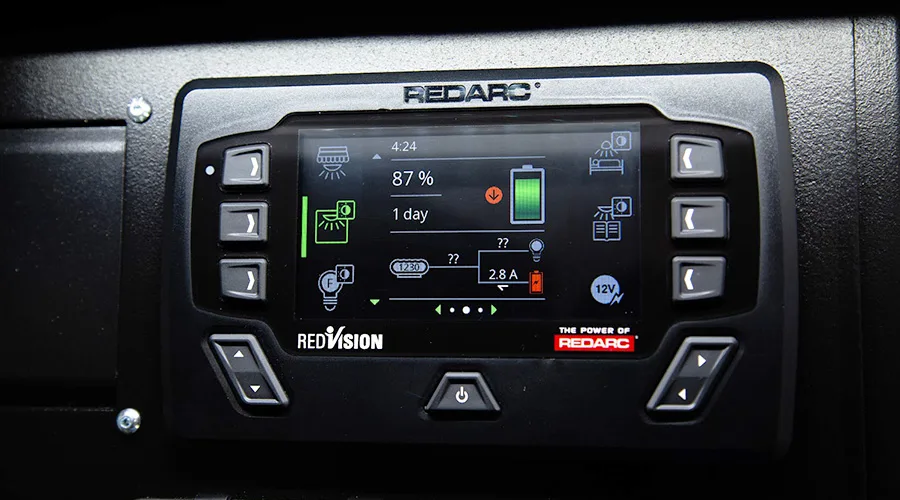 with REDARC Rogue Control Module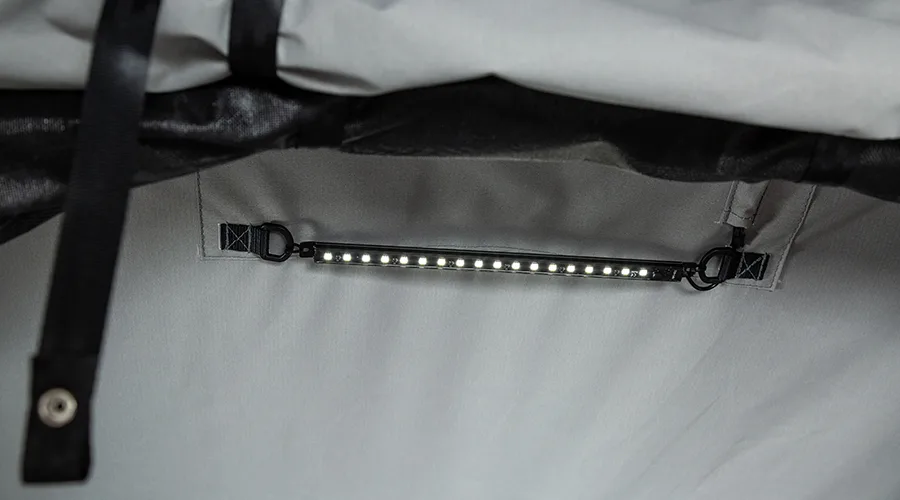 Built-in Internal Tent LED Lights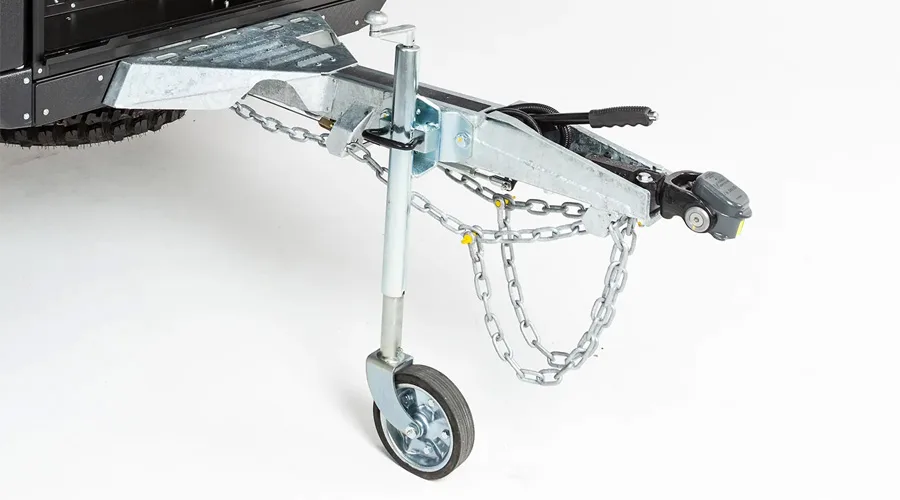 Easily connect & disconnect from your tow vehicle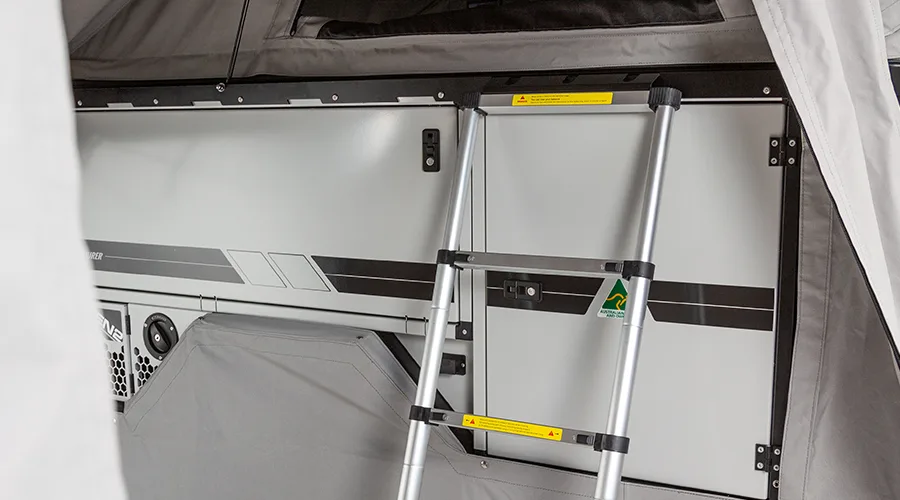 Tent Access from the Side
Stored in the Rear Storage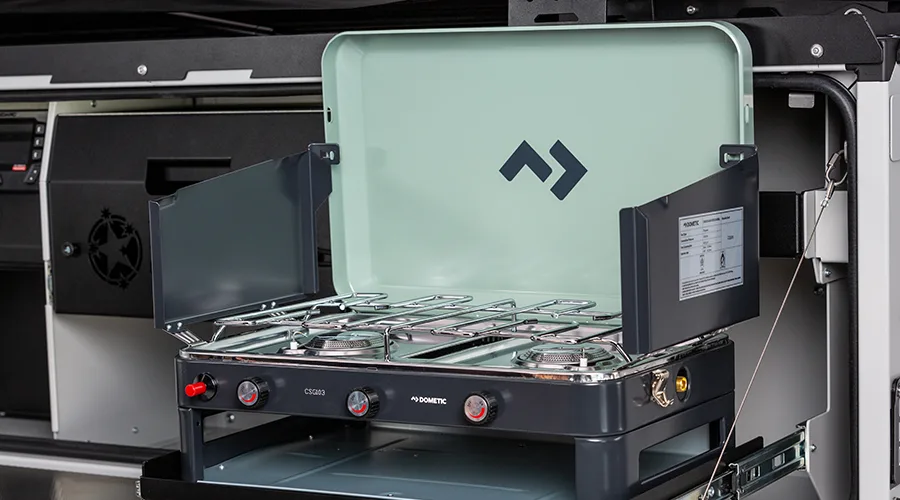 Twin Burner Gas Stove & Grill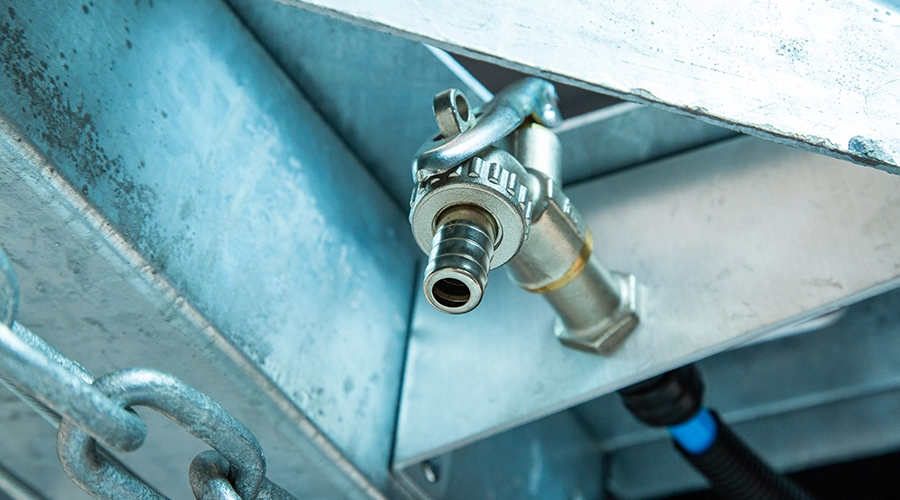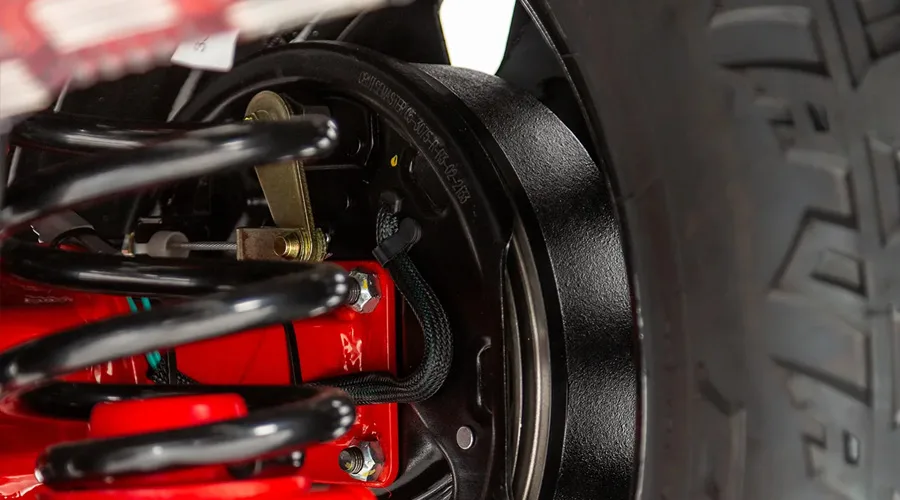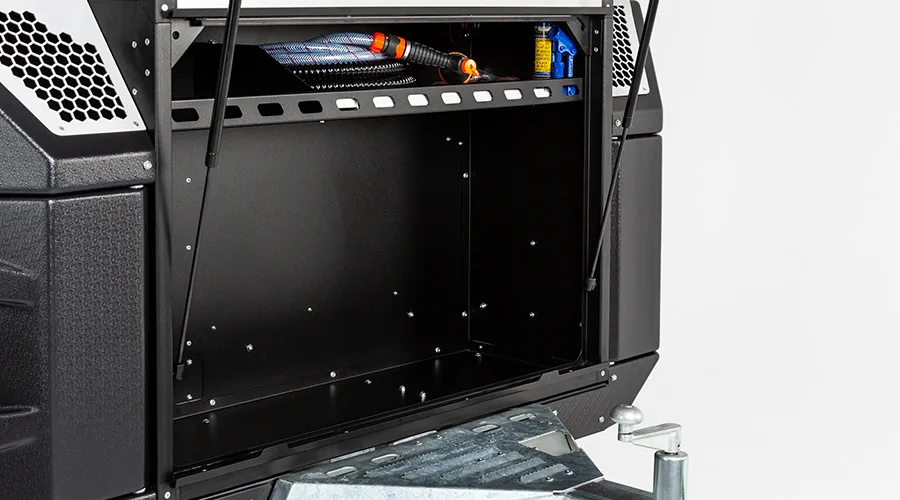 Impact Resistant with Built-in Utility Shelf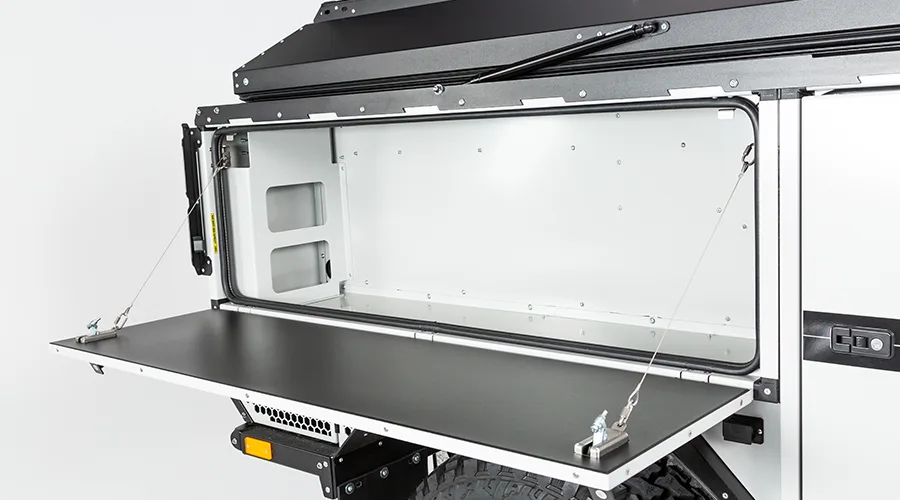 2x Roof Mounted 120W Solar Panels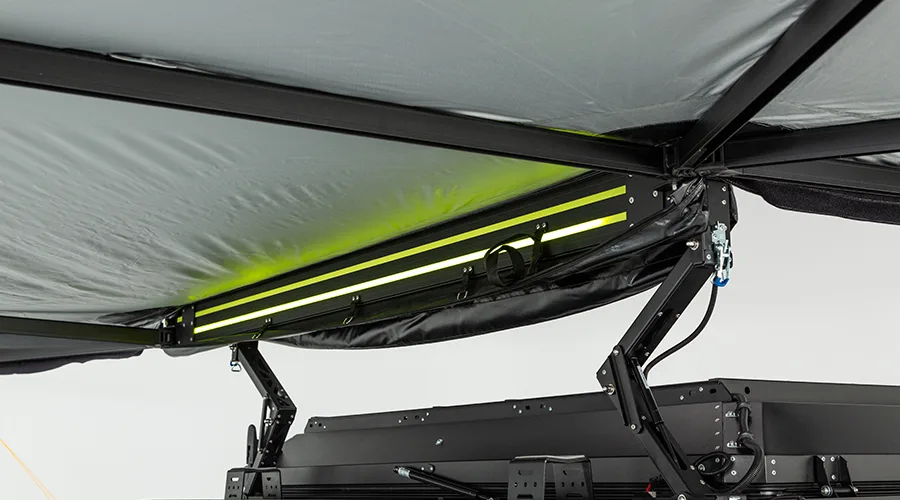 Built-in Awning LED Lights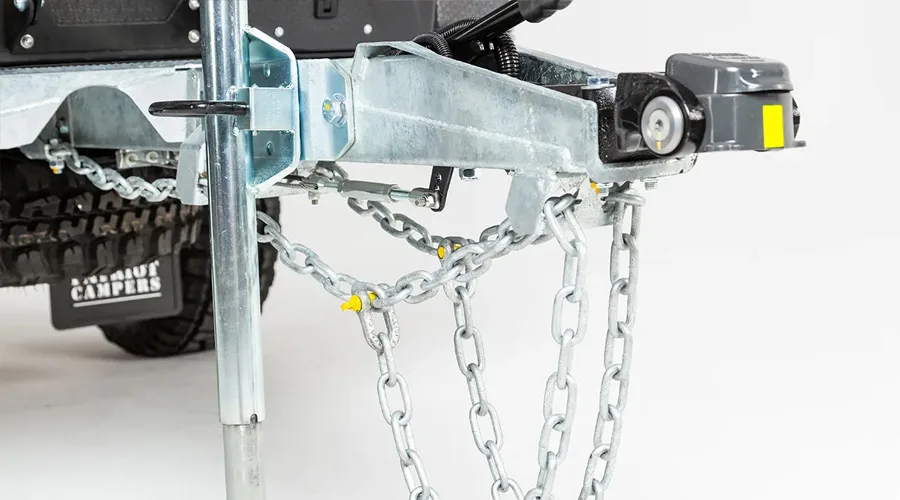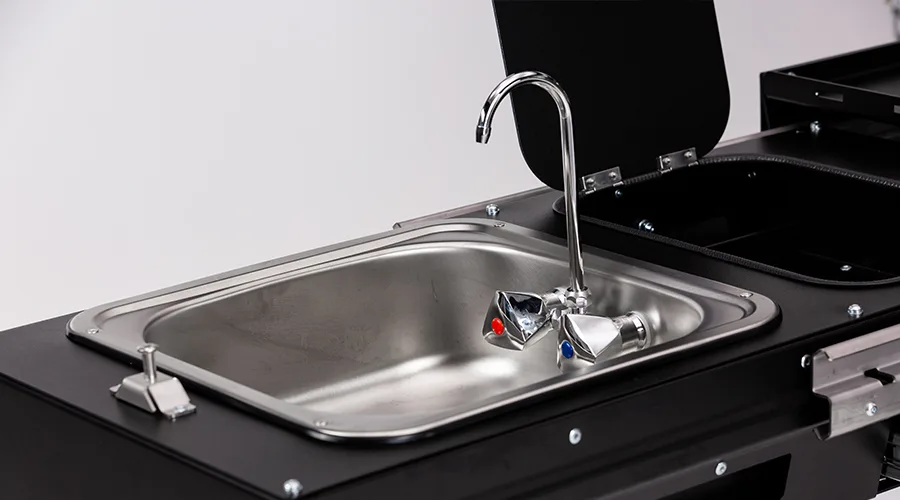 Modern stainless steel sink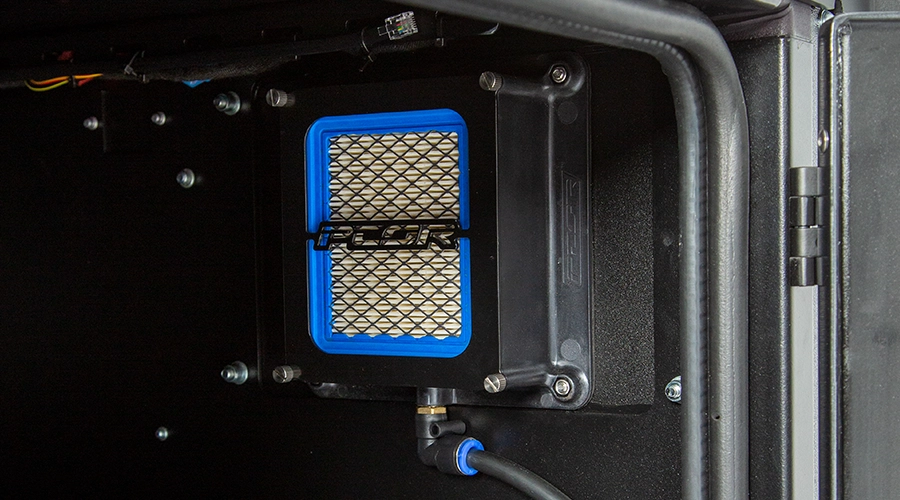 PCOR® AIR FILTER CARTRIDGE
Designed For Superior Airflow & Dust Prevention
With 33" Mud Terrain Tyres (x2)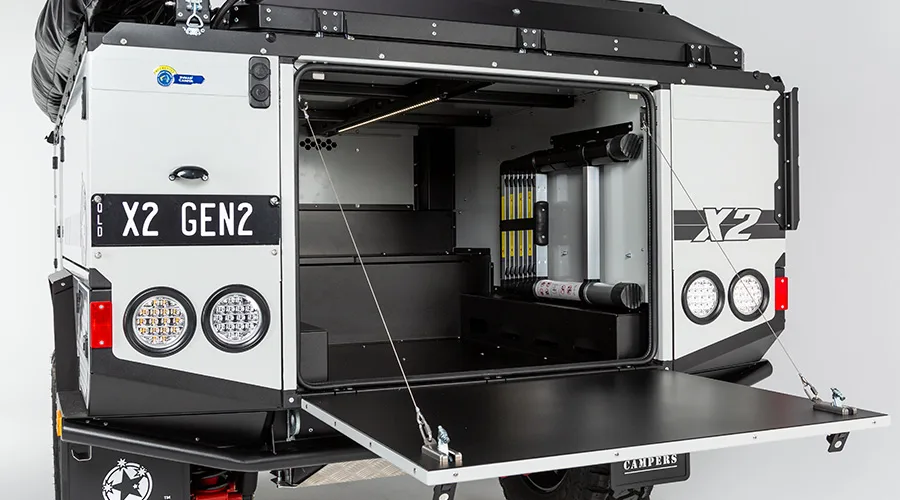 Suitable for Storing Bulky Items
Additional Storage Drawers Located Above the Kitchen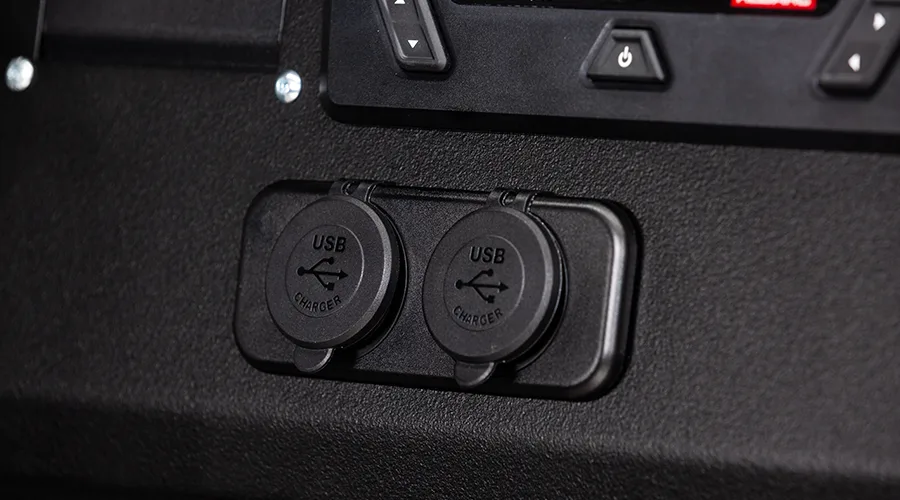 USB Charging Ports Located in the Kitchen and Rear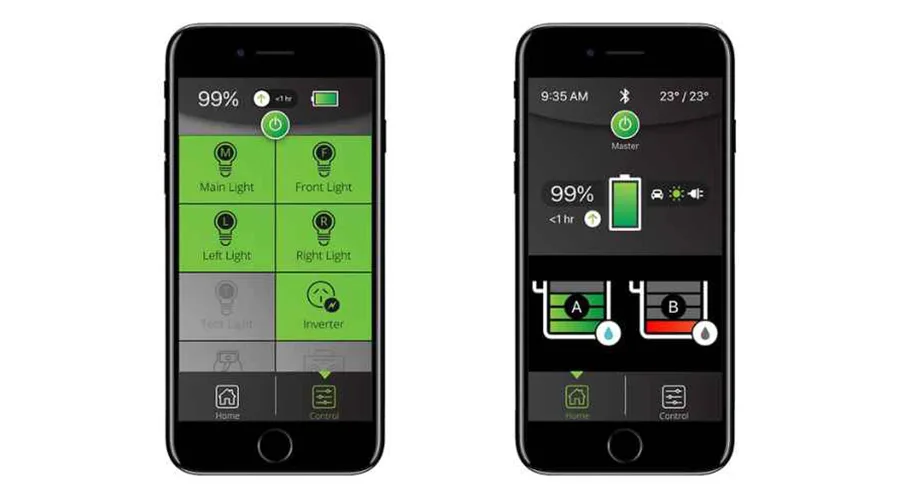 App Control with Redvision Display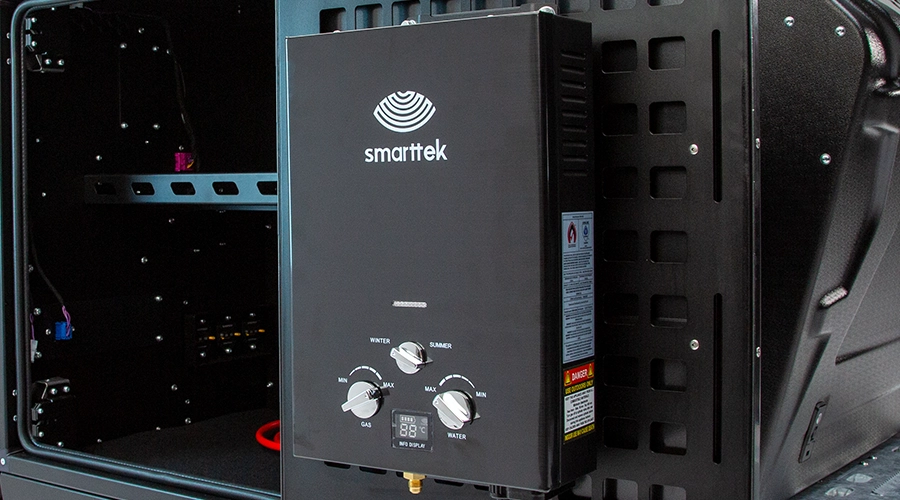 Includes 5m hose, Shower Hose & Mounting Kit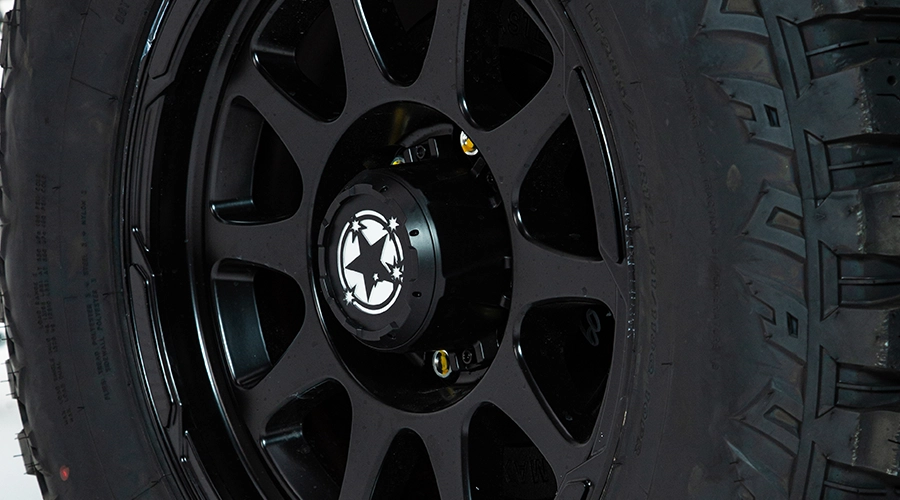 17x8" P15 Rims
Available in Black or Machined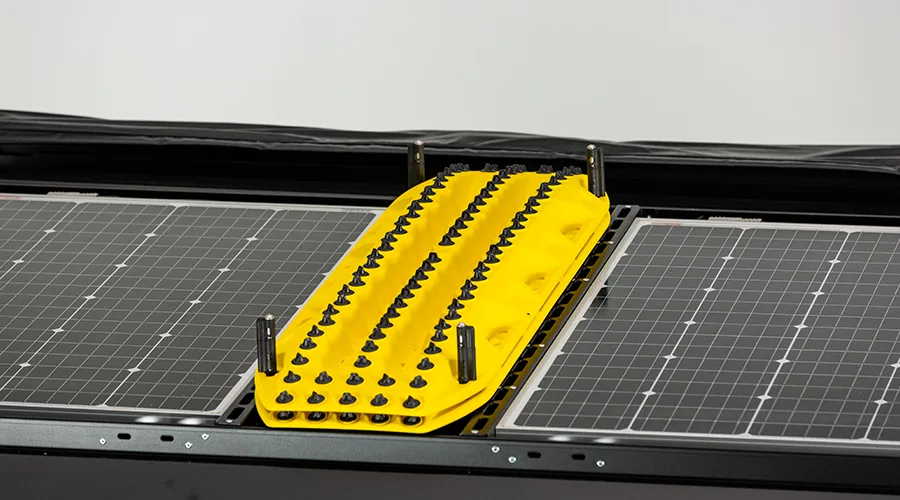 PCOR® Maxtrax & Roof Maxtrax mounts
DIESEL HOT WATER & TENT HEATER
With Front Box Shower Kit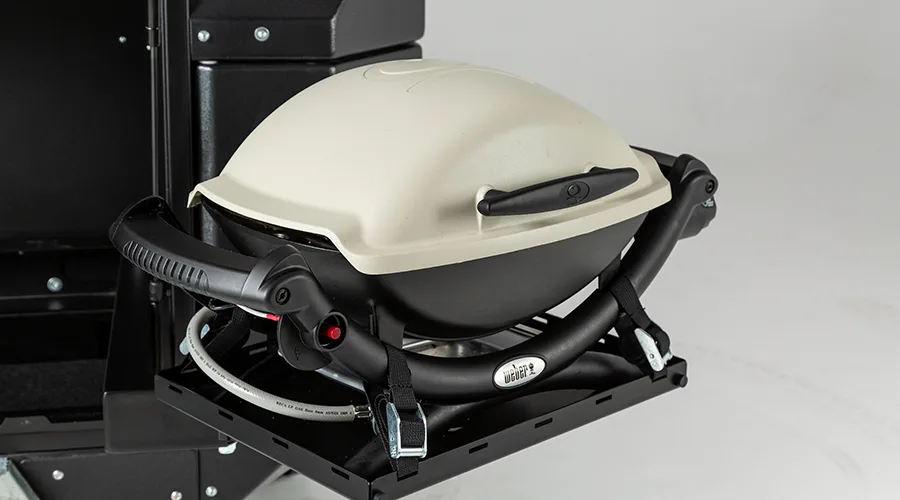 Platform Swing Away Located in the Front Box
Slide-out Rear Drawer for Easier Packing
TRUMA BLUETOOTH CONTROLLER iNET
Connect the Truma Diesel Heater to your Smartphone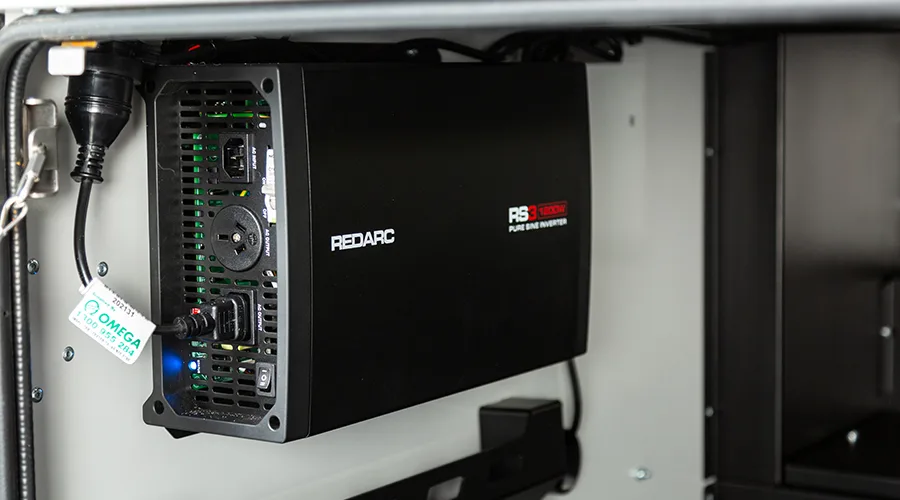 Includes Movable Power Outlets. (RS3 Inverter Not Available in US Trailers)
Carpet for Internal Storage Compartments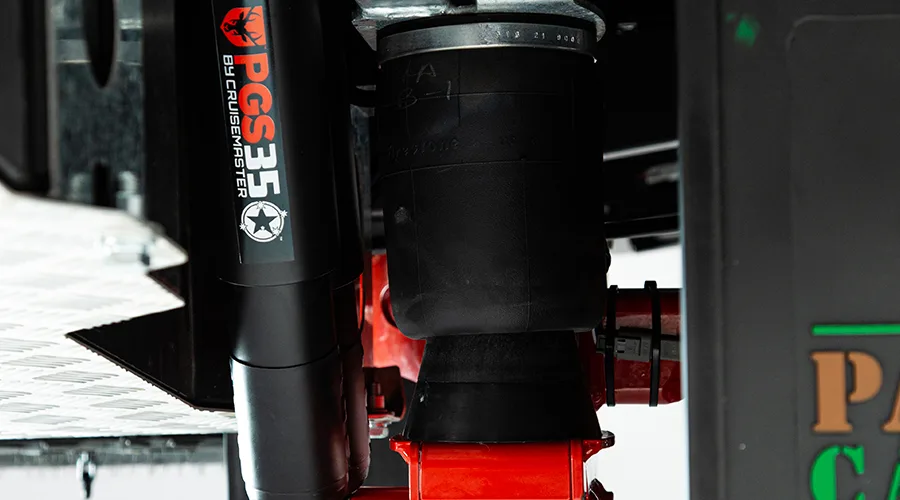 Air Bag Suspension Upgrade
With On-board Compressor and Gauge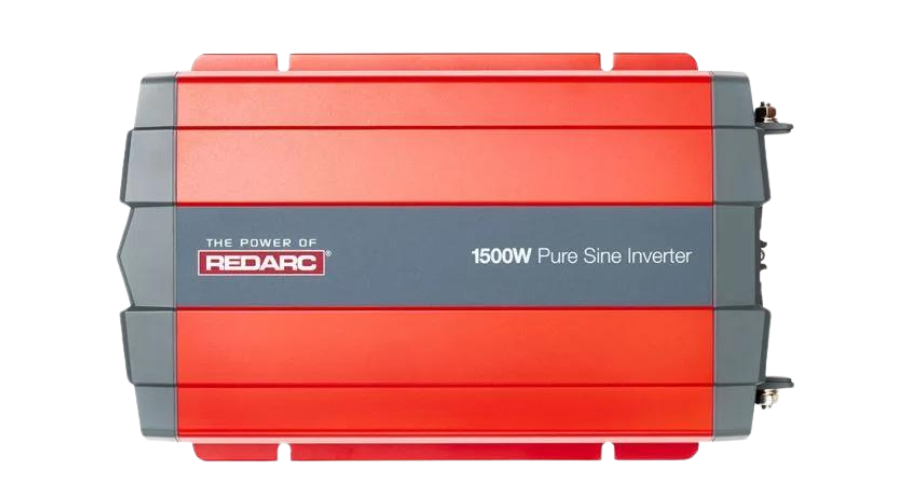 For all USA applications, REDARC 110V Inverter Supplied
Additional Lithium 100AH LIFEPO4 Battery
Additional Room Attachment
(Q1000) with Tie Down Kit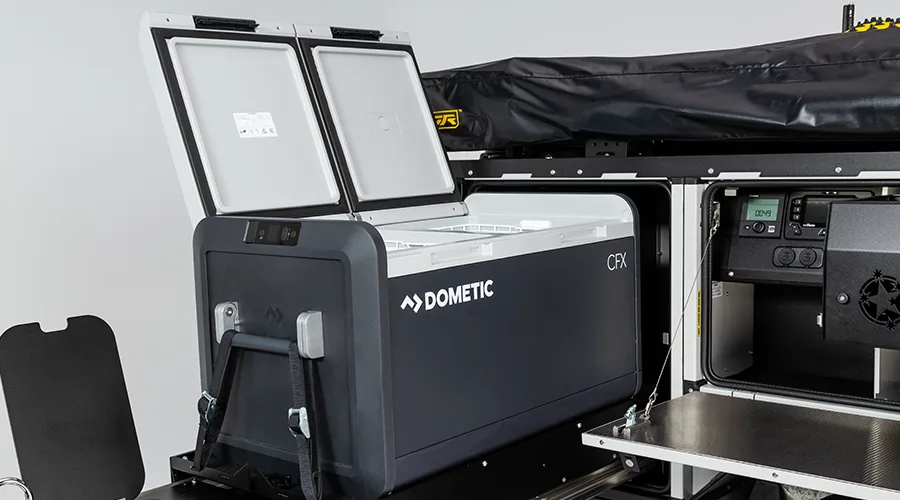 Dometic CFX3 75 inc Tie Down and Anderson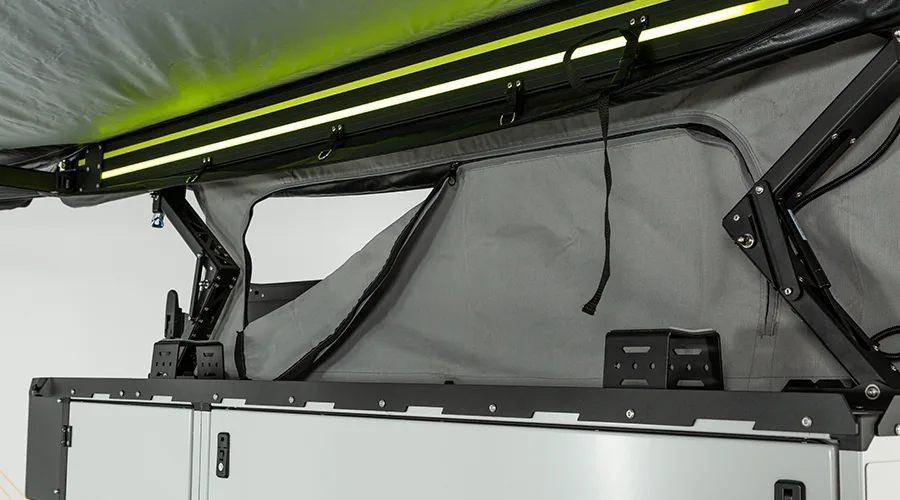 Awning to Kitchen Infill Panels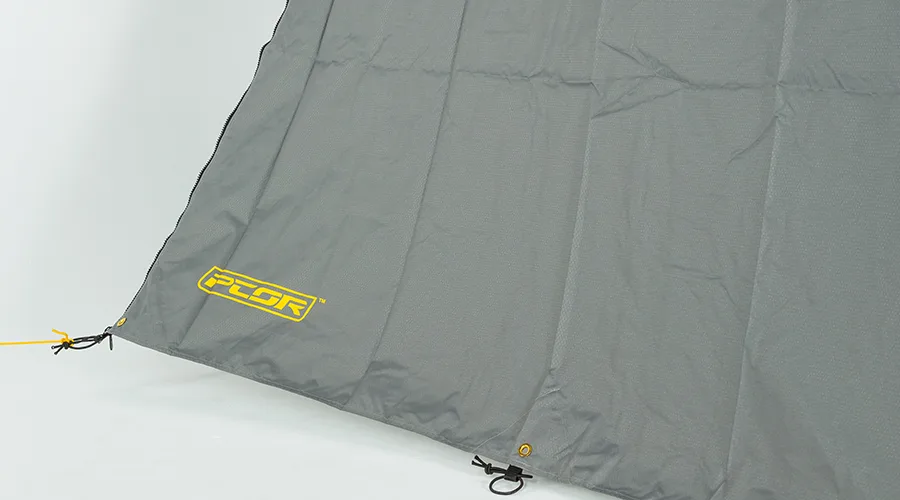 PCOR® Awning Wind Wall Kit
Includes 6 Walls and 2 Poles